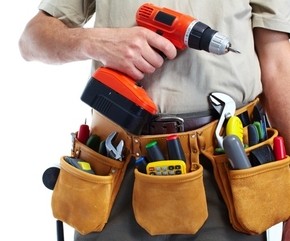 Handymen and contractors who specialize in home improvement are responsible for performing renovations and home repairs for their clients. A home repair career gives you the chance to enjoy a flexible and dynamic working environment.
Home repair allows you to use your skills and you need to accumulate an adequate amount of work experience to run your own business. It is also important to become familiar with aspects of business administration. Some home repair specialists choose to work with maintenance companies while others prefer being self-employed.
Work Experience
Handymen who are able to start businesses usually spend some years doing work under similar circumstances. They gain relevant work experience when they are employed by companies or while working in professional fields that include building maintenance and plumbing. The goal is to earn as much experience as you can before embarking on your own venture.
Business Plan
Before you start a home repair business, you need to be aware of the type of business you want to establish. Consider the jobs that you want to focus on. Handymen and contractors do multiple things ranging from helping homeowners install fixtures to major roofing and construction projects.
Create a list of services that you plan to specialize in. You also need to think about the customers that you will be offering your services to. Customers are broadly categorized as businesses and individuals. Some maintenance companies choose to focus on both types of customers while others serve one type.
Educational Programs
There are widely available and accessible educational programs that you can pursue to advance your home repair career. You can improve your qualifications and credentials by completing certificate and degree programs that are relevant to your field of interest.
Educational programs increase your experience and opportunities for networking with people in the industry. Consider entrepreneurship classes such as finance and marketing that will improve your ability to operate a thriving business.
Business Registration and Incorporation
The process of creating a formal home repair business is not complicated. It usually involves registering the name of your business, filing incorporation articles as stipulated and paying the required fees. Incorporating your business is crucial for protecting your assets and having access to tax benefits.
Licensing
Make sure that you obtain any required licensing. Depending on your area, all professionals may require a license or licensing may be determined by factors such as the extent of jobs and income earned. Qualifications for licensing vary and you need to find out what they are within your area.
Marketing
Marketing your home repair business can be challenging but is an important aspect of spreading awareness about your business. There are different ways to market your skills, ranging from mailing coupons to online ads.
Develop your Business
After obtaining your initial set of customers, offer incentives such as discounts for each customer who recommends you to other people. You home repair business will grow gradually when you maintain a loyal and satisfied customer base. Focus on being consistent and performing quality work for all your customers. As your business continues to grow, you may need to hire employees for larger jobs.
Bio
James Colt is a freelance editor and writer. He has worked with numerous business and real estate publications for almost 10 years. He spends most of his free time with his wife and two young children. For more information about roofing, please go to the site.