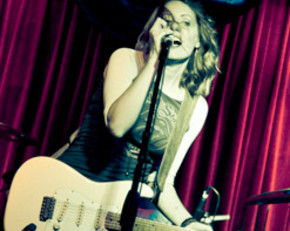 Where does a bio for Emily Zuzik start? With so many accolades under her belt, there are so many options. Should it be about her wide variety of past endeavors like SF act Sexfresh, Burning Man's Funkmobile, the NYC cover act Aki is the Glue, Stax Records soul band The Get It! and more? Or perhaps her plethora of TV and film placements like Sundance Selects film Free the Nipple, CW's Smallville, MTV's Catfish, and NBC's Love Bites (for which she sang the theme song)? Her work with Moby on his Destroyed album (cowrote and sang "The Low Hum") is a huge feather in her cap that deserves recognition.
In order to stay focused on her new video, "Alone," the best bet is probably to talk about her new album ANGELENOS. The single is a shining example of what's to come on ANGELENOS, which was produced by Tim Lefebvre (bass on David Bowie's Blackstar, Tedeschi Trucks Band, KNOWER) In between the lush layers of instrumentation and subtly tasteful production with elements of rock and electronica are Emily's sweeping vocals painting a personal picture of loves lost and finding the strength to move on. It's clear that Zuzik and Lefebrve have found a natural synergy between them, which began with her previous, You Had Me At Goodbye, solidified with their collaborative release Domestic Blitz, and has hit full stride on ANGELENOS.
The video for "Alone" is a vibrant dose of color, an exquisite vision, and a magnetic wave of emotions with Emily front and center. The video, directed by fellow HIP favorite Anana Kaye, weaves a cornucopia of scenes of every variety and composites them into electrifying performance footage of Emily. Whether it be time lapse evening, the bustling city streets, wispy clouds overhead, or candid self portraits, each visual contributes a unique piece of the puzzle. Just like Emily Zuzik is one gifted woman who wears many hats, the "Alone" video is an exquisite composition of many ingredients combined into one delicious dish.