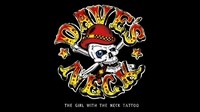 With a furious fiery attitude Dave's Neck "The Girl with the Neck Tattoo" goes for the jugular. Colossal in scope these are songs that deserve to be blasted. Physicality reigns supreme over the collection as drums have almost a tribal quality to them. Rhythms sprawl themselves out moving as fast as they possibly can. The riffs throughout find themselves discovering ever more wonderful layers of grime. By far the heart and soul of the sound are the commanding vocals. Everything revolves around the lyricism as they tap into a crazed, rebellious spirit. Infusing elements of punk, hardcore, with even a touch of metal the songs dominate.
"Burns" starts the collection off right with an absolute freewheeling sound. Quite nimble the song's stop-start emphasizes the tension within the lyrics. Layer upon layer of sound give the song an intimidating growl. Even more crazed is the soloing that introduces the breakneck speed of "Feeling Good". Guitars burn through the run down as the vocals are sung with a sense of urgency. Easily the best track on the collection is the playful title track, the unforgettable manic spirit of "The Girl with the Neck Tattoo". Fury pours out of the snide sarcasm of "Knock Knock Idiot". Ending things on a high note is the high-energy spirit of "Piece of Shit".
Dave's Neck delivers the best of hard rock "The Girl with the Neck Tattoo" is a true blast, representing what more rock ought to be.
By – beachsloth.com