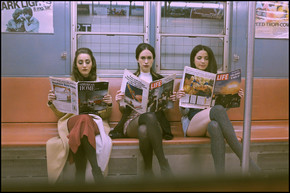 PEP is a supremely fitting name for an act who describes its music as "Nu-Wop Dreamsauce."
Their irresistible new single "Get Physical" embodies vintage malt-shop pop with an updated rhythmic twist. Both parody and homage, the track's punchy bass line, sugary sweet vocals, and ironic lyrics deliver on those melodic hooks that are essential to pop music.
"Get Physical" is available on all DSPs now.
PEP's dynamic live show has grown into a spirited seven-piece collective comprised of front-woman Karys Rhea, two back-up singers (Ilana Webber and Christina Connerton), and four male accompanists.