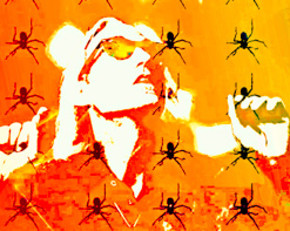 He's never been shy about the past demons he has had to conquer in his life. His battles with severe depression, anxiety, post-traumatic stress syndrome and bi-polar disorder robbed him of many of his most creative years, but rather than looking at life in the rearview he bundled it all up and forged ahead with a fresh perspective. With a lifelong love of bands like 70s-era Aerosmith, Zeppelin, The Small Faces, and more he has been hitting the airwaves and pounding the pavement with an impressive consistency, growing his base one fan at a time.
http://www.avsupersunshine.com/
On his newest single, "Spider Wedding," he weaves a complex web of love and affection using dark imagery and diverse instrumentation like flute and harpsichord to give it a decidedly eastern feel. Consistent with the rest of the tracks on his Mike Bradford-produced album, Bass Face, "Spider Wedding" effortlessly creates an enticing new sound with hints of rock and roll deja vu.
The Jared Sagal-crafted visuals of the "Spider Wedding" are equally mysterious and uneasy. The hard contrast, black and white clip sees the floating presence of AV swoop on and off screen while spider web overlays and silhouettes of the arachnid variety crawl across. Though these are the sorts of visuals that would unsettle a weaker person, AV masterfully uses it to call out to his potential bride-to-be, hoping to entice her to trust his intentions and follow him into the garden where only thing that matters is that they have each other.