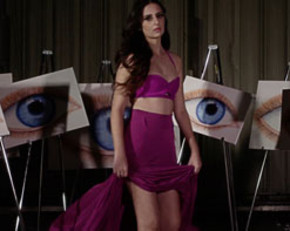 Since her first single "Addiction," and the subsequent "Forgive You," Chandani has proved herself to be an artist with a big heart, a bigger voice, and an ability to process life lessons with a maturity and poise that is remarkable for someone her age. The Los Angeles based songstress is back once again with "Baby Blues," a songwriting effort that strips away layers production to deliver an honest look at what strikes an emotional chord in her own life.
Her previous two singles saw Chandani articulating difficult life lessons from an outside, caring perspective. For "Baby Blues" she opens up about her own trials and tribulations of the heart. As we expect from an artist with such a deft touch with the pen, she bears her soul for public consumption with a familiar grace. Most artists will fire off fiery testaments simply to feel better in the moment, but ultimately suffer from an imbalance of pain and healing. "Baby Blues" is not an emotional whiplash, but rather a piece that seeks to find closure to a trying, but formative moment in time.
The video for "Baby Blues" paints a mesmerizing picture of the highs and lows of love. Literally. As Chandani so beautifully sings a tale of falling head over heels for someone not quite ready to make the same commitment, she finds herself in front of dozens of empty canvases in an empty room, paint brush in hand. One by one she creates the same image over and over, a singular blue eye that instantly pierces the inner core of the viewer. It's clear that she paints each and every one with a heavy heart, but this cathartic moment is the opportunity she needs to find her inner strength and move on.