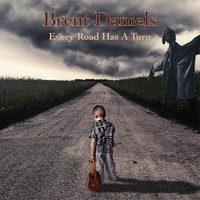 Brent Daniels, like many great musicians, fell in love with music at an early age. Subsequent turns in his journey led him away from music for many years, but his debut album Every Road Has a Turn burns with the same passion to perform powering his youthful desires. Respected producer Robyn Robins heard Daniels through a serendipitous twist of fate and began working with him on the album's dozen songs and they've enlisted a bevy of first class musical and songwriting collaborators to help bring their goals to fruition. The production makes these tracks muscular, hard hitting efforts that often still convey a lot of homegrown soul. Daniels has the vocal talents to inhabit another writer's lyrics like he wrote them himself and this sense of the dramatic elevates a lot of the material. There's no question that Daniels' country music roots run deep, but there's a tangible rock spirit filling many of the performances.
URL: http://www.brentdanielsofficial.net/
He's clearly making an aim for commercial success with the album's first track "My First Friday Night". Penned by popular songwriter Dallas Davidson, Daniels' plaintive baritone has just enough twang to convey unaffected, small town authenticity and he does a sharply observed job of inhabiting the narrative. The mid tempo arrangement has all of the right turns and crescendos at the right points without ever sounding premeditated or overly designed. There's a smattering of flashy hard rock lead guitar sprinkled over the boot heel stomp of "My Truck's Bigger than Your Truck" and Daniels gives an assertive, clipped vocal matching the song's bravado. It's a great number for modern country radio that might be a little obvious, but has the directness of a gut punch. "Party at the End of the Road" is a raucous number cut from the same mold as "My Truck's Bigger than Your Truck" and probably rates as being even freer from nuance, but Daniels makes no apologies. It's a kick out the footlights barnburner that's a little country and a little rock and roll.
"Long Way from Leaving" unleashes the more emotive side of Daniels' vocal talents. The subject matter is classic country music territory, but his singing is far from standard. The aforementioned ability for fully inhabiting a musical story is in full effect here and his ability to do so transforms this song into an entertaining and deeply felt cry from the heart. "Everything About You" has a light bluesy groove with instant radio appeal and a resonate subject that he gets over with little effort. He goes to an even more sensitive, moving place musically with the acoustic low-key musings on "Hold On" and it comes at a great place in the album's running order. The prelude to the album's finale, "Different Just the Same", gives Daniels another excellent character to take over on an album rich with a variety of voice and the warmth and humanity surrounding this performance is very real. The closer on Every Road Has a Turn is one of the best kiss off songs in recent memory from the country music genre and Daniels gives it the sort of end of album gusto the release deserves. If you like songs about having a good time, Brent Daniels' debut album is for you. There's plenty of other deeper, more meaningful songs too on this first effort revealing the breadth of this great singer's talents. Every Road Has a Turn announces the arrival of a major new talent who has the skill and work ethic to stick around for many years to come.
4 out of 5 stars
I-TUNES: https://itunes.apple.com/us/album/every-road-has-a-turn/id1093226835
Jason Hillenburg