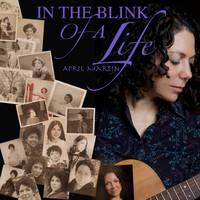 April Martin offers a fresh lovely take on the singer-songwriter tradition with the folk-infused loveliness of "In the Blink of a Life". The arrangements are flawless delivered with a stately grace. Elements of Vashti Bunyan and the Decemberists float into the mix. What results is something uniquely hers. By bringing together classical, country, and rock under folk-infused auspices results in a compelling album, one best taken together. Over the course of the album various journeys occur, ones that celebrate the ability to live and truly appreciate the many moments that make up a life.
The album opens on a caring note with the soothing work of "One Breath". Much more tragic in tone is the sadness of "Heart Break Doesn't Come". Quite reflective is the clean guitar tones of "My Rock and My Rain" a true valentine. By far the highlight of the album is the stripped-down arrangement of "While I'm Waiting". With such a quiet approach, every single detail comes through with absolute clarity. Loose and light is the sunny spirit of "Would You Let Me In". A sense of play shines through on "Sara's Lullaby". Gorgeous banjo work accompanies the free-spirited "One Part Truth". Easy going to its very core is the mellowed attitude of the celebratory "Life Is Good". Bringing the album to a satisfying conclusion is the happiness of "Praise The Morning".
"In the Blink of a Life" shows off April Martin's poetic wordplay and creative, concise arrangements.
By – beachsloth.com