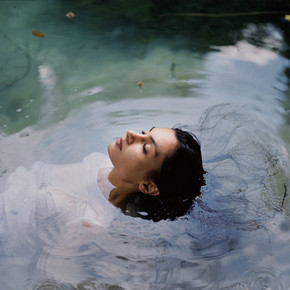 South East London girl-boy duo Tidelines unveil their exquisite video for single "Wasting", directed by Drew McDonnell. "Wasting" is an intense and intoxicating look at a failing relationship, the track is expansive in its depth of emotion but comforting in its intimacy and alluring appeal.
Tidelines have come to be known as leaders in the alt-pop world, drawing on unusual palettes of samples and sounds. "Wasting" and double AA side "Gaze" follows their previous EP "Dream"; an intricate piece of skittering electronica which invited the listener to get closer.
The duo met by chance in London. Claiming to be complete opposites in so many ways – from musical differences to the way they see the world – they named themselves Tidelines, which describes the debris formed when two bodies of water meet. Both born in London but raised in different parts of the world – from Beijing (Kailin) to Ireland (Niomi) – they also bring a synthesis of cultures to their music.
Photo credit: Jesse May Fisher