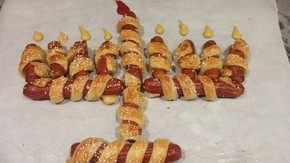 Abeles & Heymann and Koshermoms.com have gotten together to bring you some fun and delicious ideas for Chanukah this year. You can substitute regular Abeles & Heymann hot dogs with uncured hot dogs or their low fat and low sodium varieties. Here's the edible menorah recipe. Enjoy!
Ingredients
2 PACKAGES OF Abeles & Heymann FRANKS*
1 PACKAGE/ROLL OF FROZEN PUFF PASTRY DOUGH
1 EGG SLIGHTLY BEATEN
SESAME SEEDS FOR TOPPING
KETCHUP/SPICY BROWN MUSTARD FOR FLAMES
COOKIE SHEET LINED WITH PARCHMENT PAPER
This recipe serves as an instructional guideline for making a menorah out of hot dogs and puff pastry.
Directions:
Let the dough thaw slightly on the counter or in a microwave on its recommended setting, just enough to loosen the dough from the plastic backing.
Cut 8 franks into half as your candles. Use another 5 uncut franks for the base, shamash and "arms" of the menorah. (making extra pieces is highly recommended, especially if there are hungry children nearby–or perhaps impatient cooks–who may want to eat the menorah before presentation time:))
With a clean non-serrated knife, slice thin strips (i went with 1/2″ strips) of the dough. My roll of puff pastry was about 10″ wide and a 1/2″ x10″ strip was enough to wind around one uncut frank. The shorter "candle" franks used a strip measuring about 1/2″ x 5″.
Take your puff pastry strips and wind them at an angle around the franks, and set them down on the parchment paper so that the loose ends are underneath. This helps keep the dough in place while baking. Repeat this process until you have all eight "candles" made, and all five "support" franks neatly wound in dough.
Assemble your menorah as shown in the photo, or in whatever chanukah style design you like best!
Brush your project with the slightly beaten egg. Sprinkle sesame seeds along the top (or a mixture of sesame, poppy or minced onion for an "everything bagel" style topping).
Place in preheated 400* oven for about 15 minutes or until the puff pastry is dark golden brown.
Using ketchup or your favorite mustard, squeeze droplets onto the parchment paper where your flames should be. Using a toothpick, drag a bit of the ketchup or mustard into an upward pointing flame shape.
KosherMoms is a new blog site dedicated to incredible family friendly food and lifestyle ideas, debuting January 2017.