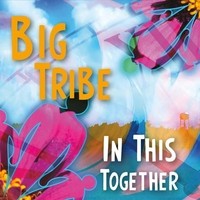 In the larger scheme of things, the Washington D.C./Baltimore based Big Tribe is every bit as much of a musical collective as their name implies. The core of the group, however, is a three piece unit consisting of Bonnie Eyler, Joe Heutte, and primary songwriter Peter Panyon. They've enlisted the aid of thirty-two different guest musicians over the course of their two full length albums, but the core group distinguishes their second studio album In This Together every bit as much as they distinguished their debut release. The dozen songs on In This Together cover a gamut of styles while never sounding inconsistent from one track to the next. There is an unifying sound and thematic thrust that helps this collection hang together in a way that much more hodgepodge collections from their peers fail to do.
URL: http://www.bigtribemusic.com/
There's a strong apocalyptic air surrounding the opening cut "Martha". It has muscular lead guitar that swells out of the mix throughout, but it isn't strictly concerned with leaving some deep bluesy footprint on listeners and just as often finesses its lead work as it does flex its power. There's a steady acoustic guitar pumping beneath the surface that gives the song's a sturdy spine punctuated by assertive, well-recorded drumming. "All in This Together" opens with some stunningly big harmonies before transitioning into a mid-tempo light rock track. Panyon's vocals struck a laconic note on the opener and the same mood pervades on the second track. Some listeners will, undoubtedly, not appreciate the distinctive character of his voice, but his matter-of-fact phrasing and unassuming charisma will win over many. The gentler strains of the band's influences continue to hold court on "10,000 Years" and Bonnie Eyler's voice will resoundingly answer any potential criticisms that the band lacks vocal strength. Panyon joins for some key harmonies and acquits himself quite well. The spare and subtle instrumentation is arranged in an uncluttered way and touches listeners in a thoughtful, unassuming fashion.
Electric guitar returns in a big way on "The Final Boat Out" and Panyon's vocals, veering between outright singing and a much more conversational style, are complemented well by Eyler's harmonies. The lyrics return to the same apocalyptic conceits driving the opener, but they sound much more like folk singers, in the style they deliver the text, rather than pop song Jeremiahs ranting about the end of this, or some other, world. The deliberate, pensive feel of "How the Mind Wanders" is primarily steered by another stellar Eyler vocal, but the lyrical content is equally sharp. There's a pleasing inevitability about the way the rhymes seem quite natural, never forced, and unravel off Eyler's tongue with beautiful thoughtfulness. "You Lied" seems like the preceding song's darker , rocked-up twin – instead of bemoaning lost love, Eyler channels her inner Grace Slick and delivers a scathing denunciation of her jilter. She snaps off words with great relish and sounds utterly convincing in a role she, up to this point, hasn't needed to occupy – female rock singer.
The album's final track, "The Boys of Autumn", is a loving ode to the "national pastime" of American baseball. It's a breezy, roots-rock affair that never overplays its instrumental hand, but some listeners will question ending this album with such a seeming throwaway number. It's a final sign that Big Tribe resolutely and gloriously play by their own rules and are willing to follow their Muse in whatever wayward path it takes them. In This Together will appeal to a wide swath of listeners.
8 out of 10 stars
AMAZON: https://www.amazon.co.uk/This-Together-Big-Tribe/dp/B01N3L3FJH
Jason Hillenburg