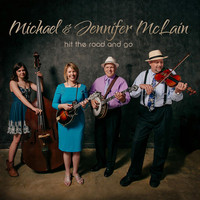 Michael and Jennifer McLain bonded, in a significant way, because of music. The husband and wife team have played music together since their first date and both hail from musical families who toured as performers across North America. The McLains are highly skilled banjo players and their debut full length studio recording, Hit the Road and Go, brings these two talented musicians under the same banner for their first extended studio project working together, but they both have fantastic individual reputations within the music community. Jennifer has earned widespread recognition as a talented singer who has lent her talents to major and indie label recordings as well as sharing stages with performers like Vince Gill and Lionel Cartwright. Michael's traveling career as a musician began early in life and he's graced stages from Japan to Brazil as a member of the McLain Family Band. He spent thirteen years as a music instructor employed at Belmont University. They surround themselves with top flight collaborators like fiddle player extraordinaire Dan Kelly and bassist Kori Caswell and this twelve song debut brings together the sum of these experiences and will appeal to bluegrass fans and novice listeners alike.
URL: https://www.banjocats.com/
The album's first song, "This Old Heart (Is Gonna Rise Again)", has a breezy mood and tasteful, underplay vocal harmonies adding much to the airy emotional tenor. The acoustic guitar work on this song is particularly sharp and really brings a lot of flair to the song's melodic value, but the fiddle work isn't too shabby either. The fiddle takes on an even more prominent role with the second track "Do I Ever Cross Your Mind?", but there's new musical elements introduced that double down on the song's bluesy feel. The dobro never takes over a big role in the mix, but it makes for excellent color in this languid, uncluttered ballad. "Jesus, Hold My Hand" is a gospel classic courtesy of writer Alfred E. Brumley that gets a smooth, loving rendition from the McLains and their collaborators. The acoustic guitar work, once again, is sparkling and has great interplay with the other string instruments, particularly the mandolin.
Doc Watson's "Southbound" pulls Michael McLain in front of the microphone for a rare solo vocal, but Jennifer McLain contributes some key supporting vocals at scattered points throughout the track. "Mcintosh" is a crackling instrumental with great exchanges between the various string instruments they bring to bear. The title track covers a relatively obscure Johnny Cash song, but the McLains lace it with so much of the bluegrass and blues influences that they own the song as their own. Jennifer McLain does quite an exemplary job with her vocals. McLain cowrote the track "Boom Town" and this bit of thoughtful social commentary, sans any overt commentary, likely rates as one of the album's underrated gems. Don't overlook it – the lyrical content is sharply observed and well tailored for the music. The finale, "I'm Ready To Go Home", could be rather dreary in some hands, but the McLains give it a rather celebratory, joyful treatment that finds no sadness in leaving this world. This is a purist's album, in some ways, when you consider the song selection, but the McLains consistently present this material in the most accessible light. Hit the Road and Go has a lot to offer traditionalists, but there's something here for anyone who loves good, melodic music played by a band.
9 out of 10 stars
I-TUNES: https://itunes.apple.com/us/album/hit-the-road-and-go/id1172028861
Jason Hillenburg