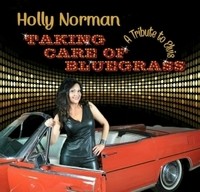 If James Burton showed up, it should be all the convincing you need. The inclusion of a number of former Presley sidemen clearly shows the respect they accord Holly Norman's creative new release Taking Care of Bluegrass – A Tribute to Elvis. James Burton's legendary guitar skills and the vocal style of The Imperials are but a few of the King of Rock and Roll's former collaborators who lend their talents to this project. The album includes one original track intended as a tribute and the remaining twelve songs cull well-known and obscure tracks alike from over the course of Presley's decades in popular music. Norman's bluegrass vision is an excellent fit for these songs and it is a testimony to their flexibility that, no matter what Norman does, Presley's original fingerprint never disappears.
URL: http://www.hollynorman.com/
"C.C. Rider" is an excellent example. If anything, Norman's arrangement seems to streamline the song and the fierce string attack of multiple instruments gives it a straight ahead, light on its feet quality. Norman's blues-streaked vocal streaks over top of the fast-paced shuffle, but she effortlessly shifts gears on the next song "In the Ghetto". Norman is joined by backing vocals at various parts and their low key contributions to this track add a slightly mournful counterpoint to Norman's vocal. The orchestrated quality of Presley's original translates nicely into bluegrass with lyrical fiddle playing that matches Norman's vocal quite well. Her cover of "Moody Blue" has a nice upward swing and a breezy, uncluttered musical arrangement that the vocal smoothly glides over. Norman doesn't lay on an extra pizzazz to her vocals in an attempt to mimic Presley and that's an important factor in the album's success. The approach works quite nicely here and she strikes her own convincing rockabilly note without ever sounding imitative.
"Love Me Tender/Are You Lonesome Tonight?" is a brief medley of Presley's two biggest love ballads, arguably, and Norman takes a considered approach to her singing that concentrates on emotion and blending her voice as seamlessly as possible with the instrumentation. "Kentucky Rain", another of Presley's later hits, benefits from being stripped down from the quasi-orchestral pop bent of the original into a bright, bouncy bluegrass track with her vocal achingly approximating every bit of the yearning heard in the lyrics. Her willingness to stretch out musically on performances like "Suspicious Minds" gives her musical partners a chance to generate some real instrumental heat with their extended breaks. The unlikely cover of "Viva Las Vegas" works spectacularly well because it reveals the song for what it really is – a rollicking, outlaw country blues. The wide screen production of the original and subsequent overdriven covers show the same characteristics, but you really hear those qualities emerge most clearly in Norman's version. She doesn't dare attempt throwing any forced, unnecessary grit, but she captures a certain amount of Presley's swagger.
Her original track and personal tribute to Presley, "Long Live the King", has a biographical slant. The lyrics are pure celebration and Norman puts across her sincerity quite well ably supported by airy, understated harmonies. If any listeners have a question about why someone would cut such an album in 2016, this song is instructive. Norman's honest and unfettered love for the King's music comes through on every song, but she's managed to impressively interpret his music to her own ends. Taking Care of Bluegrass – A Tribute to Elvis is outstanding.
9 out of 10 stars
I-TUNES: https://itunes.apple.com/us/album/taking-care-bluegrass-tribute/id1139040688
Jason Hillenburg