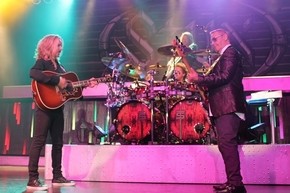 Since forming in 1972, these guys are still having fun and showing it. Their touring lineup has been consistent, with James "JY" Young and Tommy Shaw sharing lead vocals/guitars, Todd Sucherman on drums, Lawrence Gowan lead vocals/keys and Ricky Phillips bass/guitar/vocals. Original bass player Chuck Panozzo joined them onstage throughout the show.
Naturally the guys played popular selections from their extensive back catalog (frugal with the Dennis DeYoung material), and, as always, they added some extra flair. Tommy and Lawrence paid tribute to recently departed Leonard Cohen with an acoustic guitar/piano rendition of Hallelujah. The band had the packed crowd join in singing Happy Birthday to JY while presenting him with a cake. There were a lot of audience interactions, but Lawrence was the primary spokesman. He related a story of the recently discovered satellite/moon of Pluto (P5), being named Styx (from mythology), and guitarist turned Astrophysicist Brian May naming an Asteroid, Freddie Mercury. This led to an audience sing-along (which was happening with their songs) with Rocket Man, and of course, Bohemian Rhapsody. No matter how many times you've heard the songs like Lady, Fooling Yourself, Blue Collar Man, Come Sail Away, played and overplayed on the radio etc., it still feels good to hear them live. Fan or not, they make the event fun and glad you were there.
Rock to the Rescue, a nonprofit organization founded by the band and headed by Tommy's daughter has contributed to numerous charity causes. At each venue they pick a local charity to help the band sell $10 tickets for a drawing to win a signed STYX guitar in turn for a percentage of the sales as their way of supporting the particular charity's cause, and also thanking them for supporting the band's cause.
By Bob Engelman