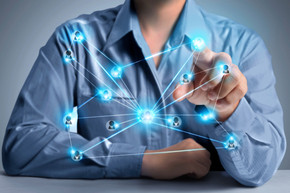 Search engines, especially Google are constantly evolving, and as we head towards another new year this trend is set to continue. Content is still very much king when it comes to SEO, and is vital to attracting new visitors to a site. Despite numerous algorithm changes over the year's one thing that has remained constant is the importance of links, external and internal. Backlinks are vital to a page's success but these need to be supplemented by internal links to maximize your site's potential.
We've heard time and time again about backlinks, so what are internal links? Internal links are basically a link from one page of your site to another. A lot of people tend to underestimate the power of internal links from a user experience, and an SEO stand point.
The complexities of internal or inner linking have been much debated over time but the importance however, is not to be underestimated. Internal linking is vital to the success of any blog or website now, and heading into 2017. Let's take a closer look at why internal linking is so powerful.
Site Navigation
First and foremost internal links when placed properly can really aid a user's experience. You can add richness to the content by providing more or tangential information to the current topic or page. For example, whilst a user is on a page reading about the benefits of sunscreen, you may also link to another article on your website which talks about the best sunscreen in the market, or vice versa. You can even avoid content duplication by directing the user to a single source. The key lies in making sure the anchor text is related and relevant.
Page Views
According to William Parison, who's an expert in on-page optimization, "Inner linking is used to find more relevant information." As a result, the users tend to read more articles on your site which helps your site's credibility, and in turn the conversion rate can go up. For the best results, your site has to be neatly organized.
Hierarchy and site optimization
SEOs always want google to quickly index any new page we add to our site. To achieve this, one must understand how Google crawls webpages. Dave Davies of Search engine watch says in his article:
"While the fine folks at Google (and Bing of course) can't visit every site on the web, they can create automated systems that do an excellent job at understanding how the web works, how elements are positioned on a page, and what those elements look and behave like. From this they can gather an understanding of how important a link is."
Google ranks individual webpages as part of its SERPS and their spiders need a very crawl-able link structure.
A crawl-able structure where pages are linked together are vital for large sites especially. Certain pages can hang in inertial space, and cannot be found by google if there are no links to them. Organizing a site like this with inner links, also helps users to navigate the site quickly and find the information they seek.
Page Authority and Link Juice
These are probably the two main reasons why internal links are so powerful, and will continue to be the case for the future. Producing a lot of content is vastly important as Google values sites based on authority more than ever. External links transfer the link juice onto particular pages of the site, but through internal links you can spread page authority and link juice. A common strategy is to link value pages to money making pages so that you can increase your conversions. The authority is also transferred as the information that is provided on the other page is very.
A recent article on Brick Marketing also touched on utilizing the footer for linking internally. According to the article, you are much better off providing new links to different parts of the site, instead of replicating what you see in the main navigation bar down below.
A common error that occurs is that the internal links may not be in HTML and can be part of a java script segment. These links need to be changed to standard HTML for search engines to be able to crawl them. Another characteristic is that these links need to be followed. As mentioned earlier they are vital to spread link juice and page authority so try to avoid adding the no follow tag to internal links. Another good practice, is to not over do them. Yes you can have can have over a 100 internal links on the page but inserting too many can deteriorate the user experience. Even Google's very own Matt Cutts mentions that there isn't a nailed on number for the amount of internal links that are good for a page. The answer to that question, is similar to the one we encounter the most when talking about marketing, and is that "it depends."
Heading into 2017, the changes that google has planned regarding the splitting up of mobile and desktop SERPS could also increase the importance of relevant links. It can be much easier to display more information on a desktop site, so things like sidebars can show a lot of related content. On the phone however, one may struggle to get people to click through as they have to search manually. Providing internal links can quicken the process of acquiring knowledge for the user. These kind of changes can only see the power of internal links grow over the coming years. Hence, internal links can be the difference between a good site and a great site in the eyes of the target market and google.
All in all, internal linking is essential for utilizing any site large or small to the fullest. Previously posted pages can be revisited and internal links can be added to get the maximum SEO benefit.