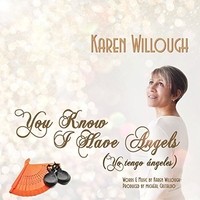 Karen Willough's "You Know I Have Angels" is a warm energetic song filled with good cheer. From the fast-paced paced to the dexterous guitar work, the way the song simply swoops down feels rather beautiful. Tying this whole sound together is the rather gentle yet powerful vocals which serve as the highlight of the piece. Akin to a journey, how the song unfurls with great style and grace is quite beautiful. Lyrics further emphasize this sense of discovery, as Karen Willough's thoughtful, carefully considered lyrics perfectly embody the sense of hope that the song possesses.
http://www.bendingwillough.com/you-know-i-have-angels
Carefully constructed the way the song starts feels tremendous with a piano leading the way at first. Not wasting a single moment, the song nicely balances a wide variety of elements. Bells, guitar, and the occasional punctuation of fanfare does wonders. Sunny in its disposition, it has a sort of calm nestled deep within its center. Layer upon layer of sound work wonders creating a glimmering sea of lovely textures. Melody leads the way as it nicely matches the hyperactive energy that marks much of the song. Keyboards neatly hover beneath all of this, helping to give the song a welcoming sort of vibe. For the finale of the song, Karen Willough brings all of the previous elements together into a satisfying rush of sound as the way they reach a joyous climax is simply stunning.
Positive and celebratory, Karen Willough's "You Know I Have Angels" has is a truly spirited, spellbinding song.
http://www.bendingwillough.com
By Beach Sloth