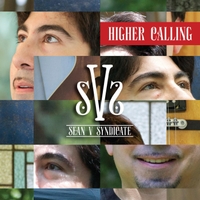 Sean V Syndicate delivers a truly stunning ode to classic rock on "Higher Calling". Over the course of the album Sean V Syndicate shows off an uncanny knack to develop satisfying guitar riffs that are infinitely catchy. Nicely accompanying this is the undeniably strong rhythm section which makes sure to truly drive the songs forward. Encompassing elements of the best of classic rock, funk, with a strong dose of the blues, Sean V Syndicate recalls an earlier period of rock one where it truly had a sense of soul. Lyrically Sean V Syndicate explores the inner workings of people's motivations throughout the album.
http://www.cdbaby.com/cd/seanvsyndicate
Things start out strong with the organ-led glory of "Head Case". With an inviting groove is the earnest, down-home country inflected work of "Beast of Burden". The absolute essentials define bluesy work of "Reap What You Sow". Easily the highlight of the album Sean V Syndicate creates a vast vivid soundscape throughout the song with easygoing, comforting guitar work. Sung straight from the heart is the passionate performance of "Don't Need a Reason to Cry". Infectious to its core is the anthem of "Mr. Bright Eyes" with nimble acoustic guitar punctuating the song's soulful message. Distortion lead and downright muscular in nature is the rush of "Internet Mole". Bringing the album to a joyous conclusion is the introspective work of "Higher Calling".
"Higher Calling" shows off Sean V Syndicate's impressive chops creating a vast rich album, one that is full of surprising twists and turns.
https://www.facebook.com/seanVsyndicate
By Beach Sloth