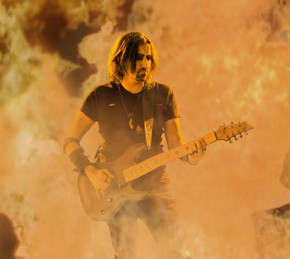 Kivanc Kilicer is an artist who has seen all sides of the metal and hard rock scene, both as his time as a band frontman and now as a solo artist striking out on his own. His brand new video and single, "Devil's Thought," is an ambitious, impressive sample of his new Dew of Roses EP. On this new EP he has found the sound he believes he has been chasing all along.
http://www.kivanckilicer.com/
Kivanc's first taste of success came as the lead vocalist for Element, a band whose accomplishments across Europe are nothing short of impressive. The band opened for the legendary Scorpions and Europe (the band), had their music featured in jingles and commercials, and finding fans in every corner of the continent. After Element he launched Gravity, a project that explored mixing various genres into hard rock songs.
Finally stepping out on his own, Kivanc is fully embracing his lifelong interest of combining progressive rock and symphonic arrangements. It's no easy feat, with Kilicer noting that both "require special attention on emotions, balance and clarity." After building his own home studio, he was able to fully immerse himself in this new form expression and art!