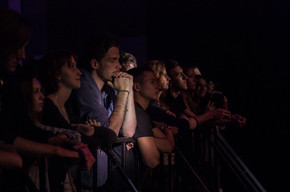 Good music is such a powerful attraction that fans might overlook band reputation issues at first. However, scandals or bad press may eventually cause fans to look elsewhere for carefree entertainment. Most of us have enough trouble of our own without becoming privy to musicians' bad choices. While a band can cultivate an edgy sound that is both provocative and meaningful enough to attract a fan base, they will generally be able to attract and keep more fans by managing public behaviors to maintain a reputable image. Here are a few tips to keep in mind.
Respect the Venue
A certain amount of tension or disagreement is bound to happen at any venue. Band members will do well to steer clear of troublemakers and brawlers in the crowd. Just as important is the need to establish positive relations with the venue management and PR crew. Musicians who are easy to work with are highly favored among booking agents and marketing agents. Even when working in a small club in an iffy neighborhood, don't get drawn into screaming matches with the audience.
Uphold Contract Terms
Performance contracts or agreements spell out the terms of a band's performance, so it is important to follow through on every commitment. Arrive ahead of time to set up and do sound checks, and be prepared for technical difficulties. Stay for the entire set, and maybe give an extra song or two to excited fans. Leave the facility in the condition you found it, according to contract terms. If you're supposed to remove litter and debris from the dressing room, be sure to do it. Treat venue staff courteously, especially if you have to make last-minute changes to the performance due to an emergency, such as a piece of broken equipment.
Treat Fans Well
Unless they are totally out of line, do your best to accommodate the fans. You don't have to go overboard, but consideration for those in attendance suggests maturity and appreciation, which fans adore. If time permits, sign some autographs and let fans take photos, as souvenirs and posted pics on social media are a secondary level of advertising. Ignore rude or critical comments when possible, and smile often at the people who came to hear you perform. No one sells a band better than enthusiastic fans. An entertainer from LA once told me, "I do everything I can to make the thousandth fan feel the same as the first fan." That's class and commitment you've gotta respect, and it pays off by creating lifelong ambassadors out of your fanbase (see this article on the Marketing Genius of KISS).
Handle Social Media with Care
Online media is a fast, convenient, and fun way to get the band's name out there, sometimes literally around the world in a matter of seconds. Don't take it for granted, though. Remember that anything posted online can become a permanent testimony to your three a.m. table dance with someone's grandmother. While that may seem like a cute image to share with the world, it may come back to bite you when applying for professional gigs or seeking work in other industries. Employers do check out social media for the inside scoop on applicants, so be intentional about the messages you send about yourself and your band.
Privacy Matters
As a band's reputation grows, so does its public visibility. Each relationship breakup, faux pas, and failure can assume epic proportions in the public eye. Your personal issues become burdensome to your public relations effort. Even innocuous statements can be devastating to your reputation if they can be construed as racist or otherwise bigoted.
With the ubiquity of internet communications, a pimple on your public image can spread like the plague and endure like Beastie Boys' love of partying. If you have suffered a public relations setback, regaining that ground can be difficult, but there are options. Better than treatment, though, is prevention. Check out Reputation X's guide on how to manage reputation online.
A little extra thought and care are essential to your continuing success in the music industry. Helping your band establish a public image should be done in a way that enhances rather than detracts from members' reputations. Give fans even more to cheer about as they eagerly tell others how great you are.