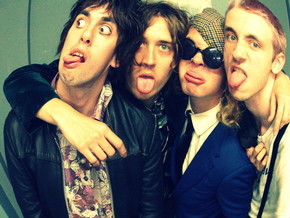 Here is the new single from UK band The Shrives who just cut their debut record with Billie-Joe Armstrong from Green Day! The band were also named as one of 'The World's Hottest New Bands' by Kerrang! as well as featured by the likes of NME, Rock Sound, 6Music and Classic Rock.
They've just released this video for their new single 'Madnight', released last Friday through Gary Powell of The Libertines label, 25 Hour Convenience Store.
It's a pretty cool story, after being tipped off to the band by his son Joey, Billie-Joe Armstrong of Green Day invited the 4-piece over to his Jingletown Studios in Oakland to put down their debut album. Their 11-track record features Joey on drums, was produced by Billie-Joe and recorded by Grammy winner Chris Dugan (Green Day, Iggy Pop, U2), while the Green Day frontman even played bass on part of the album!