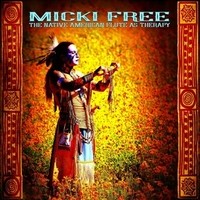 Micki Free's "Lavender Kiss" is a mystical journey through space and sound. With crystal clarity the piece tells an unspoken narrative through a vast variety of terrain. Effortlessly merging together elements of classical, folk, with a psychedelic sheen the entire thing radiates with hope and optimism. Over the course of the piece Micki Free shows off an uncanny ear for melody. Pace is the trick throughout the piece as Micki Free lets the song sprawl about, revealing a wide variety of tempos, textures and hooks throughout. By opting for such a sense of discovery the song simply stuns. Such a freewheeling piece the song lingers in the mind long after it is over.
Upon the beginning Micki Free introduces the song with a calm, steady voice leading the way. Once he becomes silent the song starts to truly bloom. Organ, flute, guitar, and a wide variety of other instruments come together to create a satisfying whole. Attention to detail means that every moment positively shimmers. Throughout the piece Micki Free lets the sounds interact in unexpected beautiful ways. Spacious in size the song feels almost cosmic as the elements soar into the sky. Towards the end of the piece various found sounds filter their way into the mix. By doing this Micki Free gives the song a sense of being a living, breathing entity.
"Lavender Kiss" creates a peaceful meditative journey courtesy of Micki Free's impeccable flawless arrangement.
http://mysteriummusic.com/albums/the-native-american-flute-as-therapy
By Beach Sloth