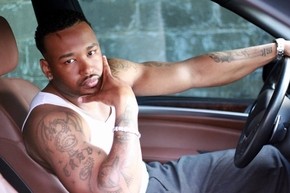 In his previous videos for "Love You Down" and "Red Bull and Hennessy," Trav Torch has established a firm foothold in the R&B world. He is a true student of the genre, taking cues from all of the greats. It's not just studying, however, that makes him who he is. It's his ability to take human sexuality and transform it from a taboo subject into a topic that everyone should have a voice in.
With his new mixtape, Rated R, he continues on this trajectory. Some artists will draw a line with vague innuendos which, while they may be charming, still leave room for interpretation. Trav, on the other hand, knows what he wants and isn't afraid to make his desires known. No games, everyone wins. His newest video for "Quarter Tank Of Gas" is perhaps the best example of this, showing the great lengths he will go to show his lovely lady the time of her life.
In the "Quarter Tank Of Gas" video, Trav is a man on a mission. When a fine young lady calls him up and tells him she'll be ready in a couple of minutes, that's his cue to hit the road and get ready to take care of business. Only one problem: it's past 3am and his luxury ride is down to a quarter tank of gas! Like a high-speed NASCAR driver coming up on his final lap, Trav knows it's a race against time, and stopping to fill up will cost precious few minutes he may not have!