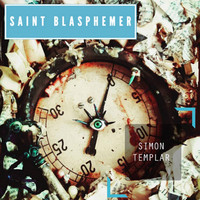 Based out of Santa Ana, California, Saint Blasphemer is a four piece hard rock band whose debut EP Simon Templar includes five very physical songs that also cover a remarkable amount of ground lyrically. The band's sound is a classic hard rock template that avoids the stylistic histrionics of Nu-Metal and any overtly imitative nods to retro seventies hard rock or its eighties hair metal counterpart. Saint Blasphemer exists on their own merits and betrays no obvious influences. Much of the album concerns itself with the heroin epidemic sweeping across the Southern California area and the resulting losses that this has entailed for lead vocalist Thomas Monroe and his band mates. In many respects, Simon Templar is a haunted work. Each of the EP's five songs charts the course of individual human misery in such a way that it cannot help but affect the listener. There is, however, an ultimately redemptive hope.
URL: http://www.saintblasphemer.com/
The EP's first track, "Nullify", serves notice that this is an uncompromising lyrical and musical ride. Saint Blasphemer takes a harrowing look into the drug scene with this track and the arrangement approximates it with intense riffing. Monroe's voice has a plaintive wail in the heart of its tone, but there's considerable technique here embodying in his phrasing. It gives it a distinctly theatrical quality that never sounds overdone. The explicit lyrical content never feels arbitrary but quite fitting given the subject. The title track moves with a mid-tempo burn and alternating passages of light and shade. It's, arguably, the EP's finest pure narrative – the Templar figure is shrouded in an excellent balance of quasi-mysterious generalities and significant specific details. Guitarist John Castellon excels here with a melodic and memorable solo in the song's second half.
"Scarecrow" rides a wave of aggressive, urgent riffing married to a Monroe's vocal closely following the guitar for much of the track. This song forgoes any guitar heroics in favor of tightly wound riffs and a steady bludgeoning quality. Saint Blasphemer shows themselves quite capable of pulling tricks from their hat by muting the guitar fireworks in favor of a pensive finale in the last quarter of the song. The ending forms a natural segue into the next track "A Perfect Rose", another autopsy on a life wasted with drug abuse. The lyrical content is typically quite strong and benefits from judicious repetition. Castellon elevates the song with some particularly evocative lead guitar and Steve Ybarra's drumming is impressive. The EP's finale "Breaking Just To Bend" is an excellent choice for the conclusion thanks to its uptempo verve. Saint Blasphemer does a fantastic job of balancing the music's need for power alongside surprising fleet-footed fluidity. A major reason for this is the crackling rhythm section interplay and bassist Steve Shell particularly shines.
Saint Blasphemer have an expert skill for creating bone-crunching hard rock with a strong metal pedigree. Combining it with Monroe's lyrical acumen is a masterstroke of presentation that makes the material stand out from the pack. Simon Templar's five songs are a journey into darkness, but its creation alone is a ray of light cutting across the black.
4/5 Stars
I-TUNES: https://itunes.apple.com/us/album/simon-templar-ep/id1160560917
Jason Hillenburg