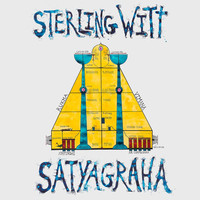 Kansas City based vocalist, guitarist and songwriter Sterling Witt's fifth full length release, Satyagraha, debuts his latest configuration, a power trio with Witt on six string and vocals, Jesse Gilpin on drums, and Davy Langerak playing bass and tambourine. The album title references a term Indian leader Mahatma Gandhi used in the early 20th century meaning an insistence on truth. This concept refers to the album's overarching theme of searching for truth and its meaning in the modern world. Such a description scarcely does service to the songwriting's metaphysical concerns, but fortunately the thirteen songs compromising the album forcefully speak for themselves. Witt and his musical partners recorded the album at Electrical Audio in Chicago, Illinois under the auspices of legendary producer Steve Albini. His mix presents Witt's songwriting as a visceral and full on aural fireworks display that captures the band's live performance in vivid detail.
URL: http://www.sterlingwitt.com/
Witt's vocals are well matched for the brash and riffy punch of "Perception Deception". This is music with swagger to burn, but Witt's songwriting and his musical cohorts maintain a steady focus that keeps the song charging ahead full bore. The contrast of his often laconic vocals on "Love Me To Death" with its white-knuckle brawling guitar gives the song its charge. This is unrepentant and high octane punk rock with diamond-hard intelligence and attitude. "Who Do You Listen To?" is the first song on the album overtly confronting its theme of uncovering the truth in a world actively seeking to distort or disguise it. Witt alternates between two primary riffs and the juxtaposition of those tempos gives the song an unusual texture still brimming over with attitude and defiance.
The gentle guitar introduction to "Let Love Out" serves notice that Witt and his collaborators aren't confined to any preconceived labels. It soon segues into a bone-crunching guitar workout but discerning listeners will hear how, no matter how much sonic muscle the trio flexes, melody remains woven into the fabric of everything they do. The lean "Make It" completely supports that last assertion. The guitar melody has a surprising lyrical beauty despite the clipped quality of the playing – Witt is one of those rare guitarists who accomplish great things with a minimal amount of movement. "Safe To Say" is Satyagraha's fullest blast of all-out punk rock, but despite its pummeling brevity, it's not without intelligence or the same coherence defining longer efforts. There's another surprisingly lyrical turn that comes with the introduction to the album's ninth track "The Answer". Witt builds the song from the sparsest of beginnings and unravels those threads into a colorful tapestry of sound.
"I Love You More Everyday" is pure punk/pop brilliance and one of the album's finest tracks. The melody is relatively simple and straight forward, but the undeniable hook and spot-on phrasing from Witt will make a wide audience sit up and take notice. Witt brings Satyagraha to a close with the acoustic track "Labor". It's a muted and introspective moment that will immediately strike many as quite ideal to finish off this album, but the song certainly does a good job of framing the personal in universal terms. Sterling Witt has hit another pinnacle with this release and the songwriting is supercharged with enough inspiration that it poises this release as a work destined to enjoy some posterity.
CD BABY: http://www.cdbaby.com/cd/sterlingwitt6
9 out of 10 stars
Jason Hillenburg