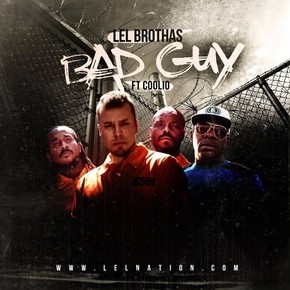 On their last video for "Mr. My Way," the hip hop hitters LEL Brothas introduced us to their own fierce brand. Nytmare, CB5, and DJ Clone each brings their own outsized personality to the group, and the world is taking notice. On their brand new clip for "Bad Guy," the group shows that they're far more than just a flash in the pan, but rather serving up a life sentence of hip hop goodness!
This AZ trio made history in 2011 as the first ever American hip hop group to perform in Saudi Arabia, as ambassadors for the US State Department. They've also performed in a dozen countries, been featured in Rock Band 3 and even picked up a famous friend for their new single and video. Maybe you've heard of him? His name is Coolio!
The "Bad Guy" video is a crushing commentary on the oft-flawed process of the American justice system. While the video revolves around the Brothas in their orange jumpsuits behind bars, their stories of how they got there are not black and white. Whether it be Nytmare's self-defense gone wrong, a revenge-inspired, fabricated domestic assault pinned on DJ Clone, or CB5 trusting the wrong people in his home, each one ended up in the klink for the wrong reasons.
The thing is, however, even though they're not supposed to be in there they know that they need to do bad things to survive. It's a blunt narrative about the mass incarceration in our country and the long term effects left behind.