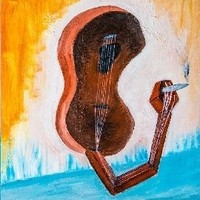 Full of searing guitar licks and lyrics that pierce the soul, One Way Ride's "Put Me On" exemplifies rock n' roll's very best. Throughout their album they tap into a bluesy vein that too many bands have forgotten. Downright rollicking with its wonderful, carefully crafted rhythms, the songs sprawl out luxurious. Vocal harmonies rest at the very heart of the sound as they give the songs a true sense of life. Spirited to the core the songs are poetic in temperament in delivery as they explore love, relationships, lust, longing, and what it means to be alive.
https://onewayridemusic.bandcamp.com/album/put-me-on
Complete with handclaps "Devil Eyes" begins the album off on a high note. The stomping rhythm works wonders as they settle into a seductive sort of groove, one which nicely accompanies the flirtatious nature of the lyrics. "Lie to Me" slows things down a bit as it goes for power rather than speed. On "Waiting" One Way Ride go for a constantly shifting, ever growing scope of sound. A furious rush of sound defines the out of control tempo of "1100 Miles". Emphasis on volume continues with the colossal sound of "Someday Soon". Catchy to its core is the infinitely catchy "All I Have to Give". Bringing the album to a joyous conclusion is the sprawling cinematic sound of "Waiting (Extended Version)" whose approach is quite majestic.
One Way Ride's "Put Me On" is a kaleidoscopic rush of color, one that recalls rock n' roll's roots.
http://www.onewayrideband.com/
By Baech Sloth