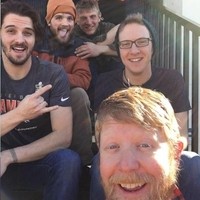 Float Like A Buffalo embraces a celebratory, carefree spirit on "Enjoy the Ride". Lyrically they embrace a sense of optimism in the future, as their highly articulate storytelling gives small snapshots from a life lived most fully. How they are able to tie in small moments to a large scope on how life comes together feels quite honest. Attention to detail means that they are able to employ a sense of play throughout, from the jubilant rhythms to the guitar solos woven within the sound's DNA. Elements of psychedelic rock, indie rock, with a hint of funk tying it all together making it radiate with pure joy.
The song wastes no time jumping into the thick of things. Guitars come into bloom quite quickly before the vocals enter the mix. Lyrics serve as the heart and center of the song. Small, little details from relationships appear out of the narrative. Upon painting a picture of a mellow kind of life the song zooms out to reveal a greater focus on the larger things, the goals and path of life. By the latter half of the song Float Like A Buffalo turns the volume up, way up, until it is a positively exuberant rush of sound. For their finale everything simply soars into the sky showing off their undeniable chops as they truly cut loose.
Infinitely catchy and downright joyful, Float Like A Buffalo's "Enjoy the Ride" is a truly inspirational, welcoming piece of pop.
https://www.facebook.com/FloatBuffalo
By Beach Sloth