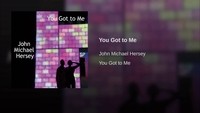 Delivered with true spirit is the impassioned work of John Michael Hersey's "You Got To Me". John Michael Hersey's vocals serve as the heart of the album as his expressive lyricism works wonders. Carefully crafting an intricate narrative over the course of the album John Michael Hersey explores the concept of relationships and the many complications they often run into. Tapping into a wonderful kaleidoscopic rush of styles ranging from indie rock to classic rock all couched within a singer-songwriter framework, the songs have a luxurious fully formed sound to them. Layer upon layer of sound come together ever so elegantly from the vamp of the organ to the expressive percussion that punctuates the pieces. At times John Michael Hersey's highly articulate, intricate arrangements feel reminiscent of Jon Brion's soundtrack work.
Opening the album off on a high note is the loose and gentle spirit of "You Saved My Life". With a level of restraint, the song has a slightly jazzy feeling to it as it slowly unfurls. Downright leisurely is the lovely "You Got To Me" by far the highlight of the album. A sense of gleefulness dominates on the playful "Don't Shy Away". Stripping the sound down to the absolute essentials is the nimble guitar work of "In The Dark". Another highlight reveals itself in the rollicking spirit of "It's Not Black And White". Bringing the album to a joyful finale is the tender ballad of "Yes, I Love You".
John Michael Hersey's "You Got To Me" offers a timeless take on pop music.
By Beach Sloth