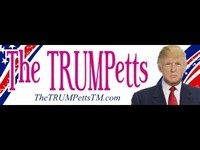 The TRUMPetts move forward with a great sense of power on the undeniably spirited "Trump Train". Filled with a true sense of community the song captures the energy of a jubilant campaign stop. Infectious to its very core the song is gargantuan in scope as the melodies and stomping rhythms work wonders for the sound. By far the highlight of the song is its strong sense of playfulness, whether it is with the various slogans of Trump thrown into the mix or the slight, almost cheerleader-like chants that dominate much of the song. Imbued with a kind of funkiness to it the song is kind of a blast, and exactly the sort of song that should be played as loud as possible.
Wasting absolutely no time in getting started the song dives right into the groove. A little sample of a train is used to great effect as the piece offers a glimpse of what November might offer for the Trump Presidential campaign. Every single flourish of sound is amplified in full as they opt for an anthem for America. Lyrically the song focuses on the sense of hope and pride. There is a sunniness to the song as it grows in happiness. For its finale the song brings all of these elements, the chants, the singing, the rhythm to a satisfying conclusion.
Purposeful, potent, and just plain old fun, the TRUMPetts create a song that is a joy to sing along to on "Trump Train".
https://twitter.com/thetrumpetts
By Beach Sloth