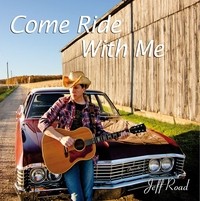 After two decades of writing songs, Jeff Road's debut full length Come Ride with Me is the satisfying result of years spent honing his craft and sharpening his skills. It is firmly in a traditional country singer/songwriter vein and eschews the relatively facile pop country style that's dominated country radio and charts for a number of years now. The ten song collection features outstanding production from Road and his collaborator Dan Voli presenting Road's original compositions in a dramatic and immediately accessible way.
FACEBOOK: https://www.facebook.com/jeffroadmusic/
The opening number "Your Return" is a moderately paced and slightly mysterious number replete with steel guitar, breezy drumming, and a steadily pumping acoustic guitar. Road's understated vocal concentrates on invoking atmosphere and utilizes careful phrasing that stresses the narrative and overall literary qualities. He maintains the same shuffle pace on the album's second track "Watching Cars Go By" and tightens his narrative control with a wonderful lyric touching on friendship, among other subjects. Road's arrangement is a layered and nuanced weave of beautiful acoustic guitar work, lightly urgent drums, and a clearly defined melody. "Alright" has a harmonica wail punctuate its chorus and relaxed, loose-limbed verses. Road's vocal is strong throughout, but really picks up its game for a chorus he belts out with authoritative conviction. "She Changed Her Mind" is stripped-down rockabilly with a similar tempo, but there's much more of a haunted, atmospheric air surrounding the song thanks to the ample amount of reverb draped over Road's vocals.
There's an accordion spiked bounce driving "Solitary Man" and the spring in the song's step stays steady and energetic throughout. There's also marvelous exuberance in Road's vocal highlighting another of Come Ride With Me's finest lyrics. The same rockabilly theme continues, in part, on the environmentally themed "Heat (Let's Save the Earth)", but it isn't quite as physical or stripped back as the predecessor. "Down by the Sea" has a slightly hairier, rockier edge than the earlier songs but, at other times, sounds like a countrified Tom Petty. The same jagged edge emerging on the aforementioned song continues on the slightly ominous "Tonight" and Road proves himself capable of matching the added aggression. The album's final song, "Under a Beautiful Sky", has a much lighter touch than any previous song and brings the album to a gentle conclusion without ever sacrificing the muscular presentation present throughout the release.
Jeff Road's musical talents are quite impressive, but it is the marriage of his musical skills and his lyrical inventiveness drawing listeners in and keeping them tuned in. These are eminently likeable songs, even though venturing a little deeper into personal darkness, and their likability is due in no small part to Road's obvious gifts as a storyteller. His voice is never strident, never pushes too hard against the arrangement, but nevertheless maintains an impressive pace that gives the songs a sense of something at stake. Come Ride With Me is well worth anyone's time.
9 out of 10 stars.
I-TUNES: https://itunes.apple.com/ca/artist/jeff-road/id603188524
Jason Hillenburg