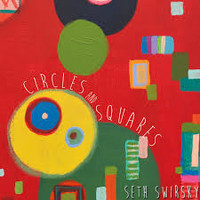 Despite the fact that Circles and Squares is his debut solo effort, there's a better than average chance you've heard a Seth Swirsky penned song before. Swirsky is partially responsible for the now iconic 1988 pop hit "Tell It To My Heart", first popularized by Taylor Dane and frequently covered since then. Swirsky has written songs for countless other mainstream artists with great success, but his talents don't stop there. Swirsky is a talented artist and respected writer with contributions in the National Review and the Huffington Post among his credits. Circles and Squares, the first album released under his name, is a breathtaking ride through a musical imagination gloriously unable to rein itself in. Some might see the running order on this album and feel intimidated. Sixteen songs, yes, but there's nary a trace of filler present on the release. It is a superbly produced affair that captures the often challenging structures of these songs with absolute clarity.
URL: http://www.seth.com/
It isn't hard to feel you are in confident hands after hearing "Shine". The song's sentiment certainly isn't new, but Swirsky filters these familiar themes and ideals through the unique prism of his own personality and produces highly individual results. Inevitable comparisons will be made. Swirsky, to a certain extent, wears his influences on his sleeve. Imitation isn't the order of the day here. There's a slightly skewed, hallucinatory aspect to Swirsky's melodies never removing them so far from the mainstream as to be rendered unrecognizable, but enough that many of them deliver a small but significant jolt on hearing them. The title song is one of his most clearly envisioned songs. The hard march of the song's first half falls away during the second half and Swirsky slows things down to a dirge-like crawl. It allows a chance for the drumming to take on new subtleties while other instruments, like piano, wax lyrical. The straight-forward rock posing in "Old Letter" is believably carried off and Swirsky's able to bring a different sort of confidence to bear that earlier songs never required. The drumming, once again, keys much of the musical activity in a dramatic and skillful way.
"Trying to Keep It Simple" has a lightly staggered shuffle that the acoustic guitar handles quite nicely and enough bounce in the melody to keep things lively. He reaches new heights of creativity on the track "Belong" and, once again, illustrates the clear difference between mimicry and influence. There are moments in the track, as others, that are decidedly reminiscent of the Beatles, but Swirsky's aforementioned penchant for impressively original melodies with just a slight touch of the weird helps him avoid such pitfalls. One of the best, note-perfect pop love songs in recent memory, "I Don't Have Anything (If I Don't Have You)" derives much of its merit from its personal nature. Instead of filling the vehicle with generic lines riffing on far superior older songs, Swirsky turns the track into a very personal confessional of sorts. It's arguably the last peak moment on the album, but there's no misses to be found with any of the tracks. Circles and Squares is one of the most completely realized musical efforts in recent memory.
9 out of 10 stars
FACEBOOK: https://www.facebook.com/Seth-Swirsky-39992357757/
Lance Wright