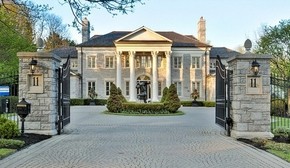 Most of us will never be able to afford a rock star-worthy mansion, but that doesn't mean you can't experience what it would be like to live in one for a few days. How is this possible? Many homes once inhabited by the biggest stars of the music world are available for rent, whether for a few nights or an entire month. In some cases, it's actually more affordable to vacation at the digs of a former celebrity than to book a hotel.
For your next vacation, consider making a stop at one of these celebrity homes and basking in their ever-present glow. It will be a trip you'll never forget.
The Band, The Man, The Legend
Bob Dylan is a musical legend, and so is his Saugerties, NY home, Big Pink – actually a modest two bedroom in the Catskills region. Of course, Dylan's too high profile to manage the property himself anymore – he relies on the services of a property management company, but that doesn't mean you can't brag to your friends that you once bunked at Dylan's place.
A Little Inspiration
If you really want to feel the spirit of music flow through you, another musician's home you should consider is Jim Morrison's West Hollywood home. This is where Morrison wrote many of The Doors hits, and even quite a bit of poetry. Don't expect dim light and space for somber reflection though – this home is straight out of the 1960s and still reflects a hippie sensibility. Lots of bright colors, murals, and something of a mini-memorial keep Morrison alive many decades after he died.
Jagger's Joint
Unlike most celebrity properties, where the star has either passed or handed off responsibility to a manager, Mick Jagger keep close tabs on his Caribbean getaway. Located in Mustique and equipped with Jagger's Jeep, you'll need to submit a bio to get clearance from the man himself. Yes, he really does review all applicants interested in a stay – largely because Jagger still lives comes here occasionally and wants to keep it truly A-list. You know you've made it big if Jagger gives you a go.
A Real Classic
Feeling a little less rock and roll and a little more old-school? Then head over to AirBnB and look up Bing Crosby's Palm Springs hacienda. It's pricy at $675 a night, but the home can accommodate about 30 poolside, so it's really not a bad deal. Summon the crew and bask and barbecue at Bing's place.
No matter what kind of music you love, the internet has made it easier than ever to track down your favorite performers' former (or current) digs, and rent them out. Many still maintain era-appropriate decor, so you're in for a truly authentic experience.