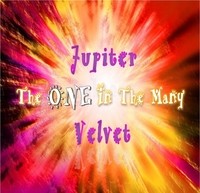 The latest release from American born, UK based multi-instrumentalist, vocalist, and songwriter Jupiter in Velvet entitled The One in the Many is a vibrant ten song collection ranging across the usual wide range of influences. While there are many readily identifiable strains in Jupiter's compositions, they are blended with such finesse and electrified with a charge of the personal that sets them far apart from typical retro-themed efforts. If we associate Jupiter in Velvet even remotely with retro-themed movements, it's solely because his artistic values are considerably different from the typical fare peddled by callow pop merchants. His songs, invariably, contain some sort of message and, while they rarely concern themselves with social issues in an outright, their concern with the sanctity of the individual imply a larger, much more artful agenda.
URL: http://jupiterinvelvet.com/
A swell of guitar opens "Rule Your Day" before exploding and quickly settling into a tight groove. The riff has a brief, staccato quality and gives Jupiter in Velvet a big rhythmic hook to ride when delivering his vocal. He sings with wide-open, untempered enthusiasm and there's a sharp pop edge, bordering on a whine, to his voice that will snag countless listeners. "Lose Yourself" has a tense and unsettled demeanor varying between brief, airy keyboard passages and crushing turns of electric guitar. Jupiter in Velvet's voice occupies the center of the mix and, even with its upper register pop attributes, his performance never wavers and remains bloodied, but ultimately unbowed. "Everyone's Looking 4 Something They Can't Find" is, arguably, the album's most magical pop moment. This doesn't mean that Jupiter in Velvet retreats into full on pandering mode. Far from it. The song is pumped full of climatic moments, dueling keyboard and vocal lines, and heart-stopping tempo changes that will grip many listeners. Jupiter in Velvet, once again, sings like his life depends on it.
"Surrender 2 the Groove" doesn't signal some turn into neo-funk noodling. Instead, Jupiter in Velvet's tribute to the power of a good musical groove remains resolutely focused around his guitar and vocals. The rhythm section, however, provides a solid foundation for everything he does and carries off the album's strong groove without ever playing in a heavy-handed, uninspiring way. "Only Your Love" showcases another excellent balance between keyboards and guitar. Both instruments are the primary melodic movers and dart like quicksilver over the top of another rock steady rhythm section performance. A bit of an ominous edge returns for the album's finale "Keep Your Eye on the Pearl". Jupiter in Velvet's vocal sounds remote, hectoring, instructive and lapses into throat-shredding passion with little warning. It's an appropriately ambiguous, yet illuminated ending to Jupiter in Velvet's latest opus. No one in music, mainstream or otherwise, is writing and recording material like you will hear on The One in the Many. It percolates with genuine inspiration and will thrill listeners in many unexpected ways. The sensibility powering the songwriting has some familiarity, but it's never easily identifiable as anything else other than Jupiter in Velvet's own voice crying out from the center of the world.
9 out of 10 stars.
I-TUNES: https://itunes.apple.com/us/album/rule-your-day-single/id1125095233?app=music&ign-mpt=uo%3D4
Jason Hillenburg