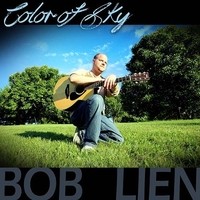 Hailing from the Twin Cities area in Minnesota, Bob Lien's journey from the land of Bob Dylan to the West Coast and back has deeply enriched his musical approach and obviously informed his life in a lasting, significant way. His deft and often highly finessed blend of thoughtful folk rock with quasi-classical string arrangements is the focus of his album Color of Sky. This seemingly sprawling fifteen song collection is actual a voluminous collection of condensed, tightly controlled songs that set goals for themselves each track accomplishes with room to spare. This isn't half-realized material. The songs on Color of Night are full realized and nothing plays as an arbitrary addition to the composition. Cyrus Rhodes' production brings everything into ideal balance while still highlight each individual part in the mix.
He opens things audaciously with the title song. His voice has a remarkably clear tone, a slightly nasal tone, and highly precise phrasing that highlights the lyrical content well. The marriage of strings with his steady rolling folk rock arrangement works extremely well and never rings false. There's a lot of cascading melodies throughout the song that give it a slightly elevated feel. The meditative "What I Receive" eschews the classical/folk fusion much of the album aims for in favor of light orchestral touches in the bridge and otherwise plays like a straight, mid-tempo folk song with soft peddled theatrics. The lilting harmonies of "Temporary Homes" lift the song far above its relatively straightforward folk template and give it a dreamy ambiance undercutting the relatively downbeat content. Despite whatever weighty themes his songwriting deals with, Lien's phrasing typically pulls songs out of a mire of bad feeling and this is no exception.
The grandly lyrical piano opening of "Best of Who We Are" soon incorporates strings before Lien's voice joins in. Vocal melodies are a strength of every song on Color of Sky and this is one of the best thanks to how neatly it dovetails with the backing. When the drums enter, the grandeur of the song dramatically increases. "Yesterday Came Today" is a lower key affair than many of the other songs and has an inventively arrangement that the production gives vibrant life to. One of the best later tracks on Color of Night is "Weight of Fallen Dreams", a rhythmically diverse work with a number of tricky, yet understated, tempo changes and some excellent classical fills from the cello. The track is certainly shaded a darker hue than earlier numbers, but that's no flaw. Lien's ability to shift songwriting moods while still retaining overall cohesion is quite remarkable.
He ends this major work with the quiet and restrained closer "Lullaby". There are some more of the interesting tempo flourishes heard in earlier tracks, but the true draw of this song is hearing Lien convincingly explore his upper register and the exquisite sensitivity he shows exploring the lyrical content. Color of Night is a magical musical ride that never grows too strident or heavy handed/
9 out of 10 stars.
MTV: http://www.mtv.com/artists/bob-lien/
Jason Hillenburg