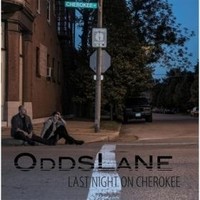 Odds Lane represents the best of the blues with its rollicking "Last Night on Cherokee". Deserving to be played as loud as possible these are songs that grab the listener. Incorporating rock, the blues, with a little funk the songs glide by ever so effortlessly. Everything simply possesses a physicality to it from the dexterous guitar work to the toe-tappingly sweet rhythms. Power emanates from each of the pieces. Tied together the songs are best taken in as a whole as each one offers a slightly different glimpse of a life fully lived.
Wasting no time, they dive right into the mix of things with "This Is What It's Like" as the song has a communal feel to it. Nimble in approach is the delicious bassline of "Falling Down". Spacious in scope is the skank of "100 Miles" as it offers a loose, dreamy rhythm. An inviting groove takes hold on the casual cool of "Strange Love". Opting for an airier sound is the sweet tenderness of "Red & Yellow Clowns". By far the highlight of the album is the fiery work of "The Lonely" whose bluesy funk is an absolute treat. Rustic charm defines the cautionary tale of "Too Close Of The Sun". Ending the album off with a late night vibe is the darkened hues of "End Of The Line".
Downright decadent with a true sense of play, Odds Lane make a perfect, fully formed and thought out album with "Last Night on Cherokee".
By Beach Sloth