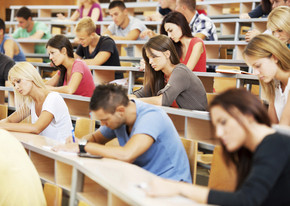 If you're an aspiring musician, a wannabe producer, or you think you've got what it take to make the best musicians sound even better, than a musical industry degree is the right step for you. Thousands of people are now studying and benefiting from degree courses aimed at the music industry, striving to gain qualifications to work in an industry that never before required qualifications! That's right; the music industry is changing all the time. Years ago, it was enough to find you way into a good band and meet the right people, but these days you need to do a little bit more to get ahead. These days there are so many specific courses out there, you should be able to find something specific out there to match your exact hopes and aspirations in the music industry.
Sometimes the best way of finding what's out there for you is to spend some time online sifting through various options. It's a great way to start thinking about what might be the best avenue for you. If you search online for entertainment industry programs you should be able to find huge amounts of information on different courses available for someone who is looking to break into the music scene in a big way.
A lot of the best colleges offer a huge range of courses designed to help you to break through in that particular discipline. These days you can find individual courses specifically aimed at DJ performance and production, for example, which would have been unheard of even a decade ago! Nowadays you'll receive a musician's certificate in Performance and production, and will learn huge amounts about the DJ industry as well as gaining skills in a practical sense. There are audio engineering courses which can help you to take your technical knowledge to a new level, with excellent opportunities to learn on the job, working in bespoke studios with some of the best equipment in the world. You'll also find incredible independent artists programs where you can focus in on your main instrument, as well as learning about how to carve your own niche in the industry, picking up information about professional skills required in the cold hard world of the music industry!
As an artist or technician, your job at hand is to find the right course for you. You should pay particular attention to reviews online about different musical educators, and try to find a course that seems to focus closely on your own musical desires moving forward.
The music industry is an unforgiving industry at the best of times, but it can also be one of the most rewarding. There aren't too many jobs out there that are able to reward both financially and creatively. If you love creating music or helping to create it, then what better way than to spend your life doing what you love with financial reward? The first step to providing yourself with that opportunity is through hard work, so get studying and find a great course to help you move forward within the industry!