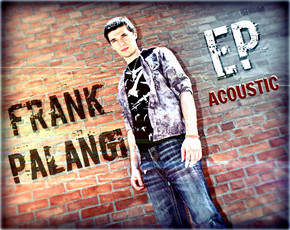 Rock Artist Frank Palangi hailing from Upstate NY releases this new acoustic version of the "Frank Palangi EP" that's available digitally worldwide through CDbaby distribution. Itunes, Amazon, Spotify, Google Play and more!
"I wanted to shed another side to these songs. I get many comments about releasing acoustic versions since I play acoustic live often and after I released the March acoustic single "Break These Chains", I thought it's time to go through my catalog and do that for the others also."
Palangi ran an Indiegogo campaign promoting to help with funds for the release through his hard core fans. It's a fan love project out of the pure fact that Frank wants to give more to his fans. He remixed, re-corded the songs at his personal studio which seems to becoming more and more acceptable in today's standards of the world of digital music. If you haven't heard the original EP, go do it here and you many just enjoy these acoustic versions more!
BACKGROUND ON THE ORIGINAL EP: In 2010, fate crossed paths handing a demo CD to the Grammy Nominated Christian rock band, "Day Of Fire" at Upstate Concert Hall in Clifton Park, NY. Singer Josh Brown (also in Full Devil Jacket) saw potential and forwarded it over to their current Nashville producer Rogers Masson who has worked with acts Marylin Manson, Vintage Trouble. Shortly after Frank was on his way traveling to TN to record his 1st EP at the music mecca with a seasoned act. Masson said, "This is the baddest rhythm section in the land, and along with the vocal guidance from Josh, Frank's songs are going to turn out amazing." . Frank says "The first EP grew my sound into the place where it needed to be get to another level. The great musicians I worked with and culture of that area was absorbed into the record. I felt a platform to stand on and opened to new opportunities from national shows, local gigs, and local radio."
LIVE: Palangi has performed accomplishing much in a short amount of time with Northeast shows with national acts 3 Doors Down, Buckcherry, Candlebox, Aaron Lewis (Staind), Lacey Sturm (Flyleaf), FUEL, TRAPT with Candlelight Red/Veer Union, Powerman 5000 with HEDPE, Starset, Young Guns, HURT, Jess Malin (Former D-Generation singer), IM5 and winning slots on The Rocknderby Festival at the Schaghticoke, NY featuring Megedeth, Shinedown, Dokken, Like A Storm, Coheed and Cambria – The Uproar Festival at SPAC in Saratoga NY featuring Alice in Chains/Jane's Addiction. Including performances on various internet radio, Local NY TV performances with Fox23 News, News Channel 13 (NY), LookTV, Plattsburgh Studio B TV, an aired commercial on Time Warner Cable on Sci-Fi, Vh1 and FX networks with newspaper features in the Albany Times Union, Saratoga Spotlight News, The Chronicle, The Poststar. Whether he is playing a restaurant or playing on a stage with a crowd of people, you are in for a truly energetic, consistent and enjoyable performance acoustically or with a full band.