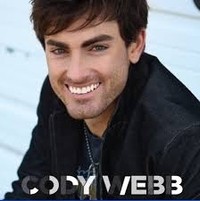 The debut EP from rising country star Cody Webb is long on talent and charisma guaranteed to propel him to the forefront of the genre's modern vanguard. The six songs on his debut effort are the sort of forward-thinking material you encounter from performers looking to find sturdy ground to build an extensive career. While Webb is never anything less than entertaining, there are no novelty or gimmick songs here – instead, Webb specializes in pushing musically pleasing compositions that never lack depth or emotional effectiveness. Like all great songwriters and performers, Webb understands his first obligation is to connect with his audience and these half dozen songs do so in marvelous, sometimes unexpected, ways. The chief building block forming a foundation for his material, however, is a reliance on melody that gives each of the songs a distinctive flavor. Cody Webb's self-titled first release promises tremendous depth and diversity.
URL: http://codywebbcountry.com/music/
It delivers from the first song on. The opener "More Than A Little" will certainly gain a lot of attention for its percolating guitar work, but it's Webb's eminently likable vocal that carries the day in the end for the song. This has all of the pre-requisites listeners look for in modern country, but it never gets a facile treatment. Webb's songwriting skills are quite solid on this track and throughout the EP. "She Ain't Right" proves the point if nothing else does. This is a combination of tasteful country blues mixed with assertive percussion and an ear for a strong chorus, but it's once again the effortless swagger Webb brings to bear that means the most for the song's success. "My My My Girl" has steadily applied power and the same sharp focus defining the earlier songs. It's to Webb's credit that he keeps things as direct and straight-forward as possible while obviously still conveying a personal message with his music.
"Love Me Like I'm Gone" has a relaxed anthemic quality. Webb's musical flexibility allows him the ability of conveying that quality without ever allowing the arrangement to become too strident. Instead, it has a coolly confident build, accumulating force and tension over time, and ultimately proves quite satisfying as a result. Webb's penultimate song on the debut release, "Nothin' On You", has more easy going charm than anything else so far and Webb instinctively understands how to tackle the lyrics in such a way it invests them with surprising depth. The final song "Better At Night" shares the same anthemic feel as the earlier "Love Me Like I'm Gone", but the stylistic leanings are much more pronounced here than before. The percussion is particularly brash and gives the song every bit of the dramatic flair one supposes a final song to deserve.
Cody Webb has landed in a big, memorable way with his solo recording debut. The six songs here definitely reach for the brass ring of mainstream success, but there isn't a single instance where Webb doesn't balance that out against his desire to make a personal statement. He has the instincts of a masterful entertainer and this final ingredient pushes this release into the stratosphere.
9 out of 10 stars.
I-TUNES: https://itunes.apple.com/us/album/more-than-a-little-single/id1101746552
Jason Hillenburg