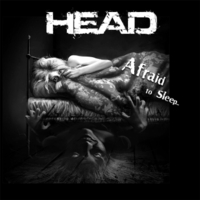 HEAD's "Afraid to Sleep" offers the best in dark pleasures. With lyrics that explore the underbelly, the sleazy and the sensual, the songs possess great power. Reminiscent of Garbage's effortless blend of the industrial with a hint of electro-clash, the songs are woven together ever so perfectly. Easily the heart and soul of the album are the lyrics whose subject matter nicely matches the blackened terrain of the prickly soundscapes. By opting for the intense the songs feel all-encompassing. Attention to detail results in fantastic rhythms, endless grooves, and an impressive number of haunting melodies.
Audio Link: http://headmusic.ca/listen/
"I Drive" starts with a granular synthesizer as the song is propelled forward with a driving rhythm. Vocals are a perfect mix of defiance and sexuality. Great amounts of distortion define the rush of "Sickness". The way that the music comes into full bloom feels completely earned as the sound tries to soar to the skies. Careening uncontrollably is the desperate desire to escape numbness that marks the expressive "Feel Something". Expansive in nature is the odd beauty of "Darkness" whose cinematic flourishes make it one of the album highlights. Injecting a bit of bite is the glam rock infused anthem of "Feel Your Ache". "Everything" goes for a gentler sound as it unfolds ever so slowly. Glistening guitars and spaciousness defines the introspective sound of "Washing off the Blood". Brilliantly concluding the album is the satisfying buildup of "HEAD".
Buy: http://www.cdbaby.com/cd/head1
On HEAD's "Afraid to Sleep" it is impossible to not become fully immersed into their overwhelming eerie atmospheres.
By Beach Sloth