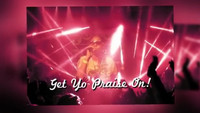 Delivering a positive message with a ferocious beat, MsTish!'s "Get Yo Praise On!" is hip-hop at its absolute best. Their flow simply rides the beat ever so perfectly with no letup whatsoever. By letting the lyrics serve front and center the song feels strong, feels pure, and magnificent in terms of its overall execution. Sound design is impeccable as the massive sound works wonders as the groove continuously grows ever larger. Rhythm drives the entire thing forward as the melody weaves itself in and out of the mix, as the synthesizer work proves to be quite expressive.
Right from the beginning the song starts up on a strong note. Layer upon layer of sound comes together ever so effortlessly. A fluttering sound introduces the piece as the percussion bounces on so easily. Once the rappers come into view the song feels quite luxurious as the lyrics focus on exactly what needs to done the encouragement people need to do in order to become ever closer to appreciating the world they inhabit and the world they can make better. Allusions to Jacob's ladder, the clever wordplay, all of this shows a great level of thoughtfulness. Towards the last stretch of the song everything becomes ever more energetic, impassioned as the entire thing feels like the final word.
https://itunes.apple.com/us/album/spirit-truth/id1056688607
Catchy to its very core, MsTish!'s "Get Yo Praise On!" offers a dominating, all-encompassing sound that lingers in the mind long after it is over.
By Beach Sloth