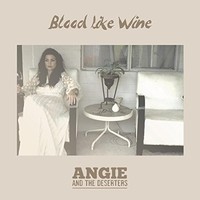 Angie and the Deserters bring some rarefied goods to the scene. Her Blood Like Wine EP release plays like a juiced up hybrid of Bakersfield bred country filtered through a rawboned blues rock sensibility. The central musical force in these songs, Angie Bruyere's voice, is deep fried Southern yowl, but a quick perusal of her biography makes it clear she's from another world entirely. Her birth in upstate New York and upbringing in the balmy climes of southern California certainly doesn't set the stage for an introduction to her voice, but it puts her uniqueness all the more into perspective. True talent isn't confined to geography and she sings the hard-luck tales on her album with the sort of gravitas and credibility listeners associate with iconic artists of decades gone by.
URL: http://www.angieandthedeserters.com/
The opener "Country Radio" comes barreling out of the speakers intent on steamrolling any possible resistance from the listeners. The reverb-spiked guitars and deep swing in the drumming keeps things on a bracing pace while Bruyere coils her voice through the arrangement and gives it spectacularly gritty authenticity. The release's second song, "Smile", finds the band stepping back into decidedly lower-key territory. This is much more in an arch country tradition, complete with mournful fiddle and steel guitar, but it's gorgeously rendered and dispatched with an eye towards tastefulness. The lyrics have a simple, plain-spoken poetic quality that Bruyere caresses out with careful deliberation. "The Gift" simmers with spare, minor key guitar melodies and an understated tempo that gradually worms itself into a listener's consciousness. She shows great subtlety here blending the devotional qualities of the lyric together with its darker undertow in a balanced, yet highly dramatic, fashion. The band conjures a wealth of atmospherics with minimalist, yet elegant, style.
Angie and the Deserters revert to the livelier, more rock oriented style heard on the first track. "Ain't Goin' Down" has a decidedly more laid back approach than the opener, but it has a slow building energy that never rushes itself. Instead, the song's steady swagger carries listeners along from the first note with power and confidence. Blood Like Wine concludes with the acoustic strains of "Don't Cry". Much like the rest of the band's work, melody is the essential building block for why this songwriting works and the closer is, arguably, the album's best example of melodic excellence. They underscore that talent with another keen example of their arranging talents – "Don't Cry" is impressively solid, gains momentum at a fitting pace, and sports a surprising variety of instrumentation woven together without a single seam showing. It's a gripping finale to the release.
Angie and the Deserters score big with this release. It doesn't remake the wheel, but it does illustrate that few, if any, modern acts are doing a better job of pouring new wine into old bottle. The immaculate production makes this an enjoyable experience, but that experience would be nothing without the compelling musical vision guiding Blood Like Wine as a whole.
9 out of 10 stars.
AMAZON: https://www.amazon.com/Blood-Like-Explicit-Angie-Deserters/dp/B01GP32S78
Jason Hillenburg