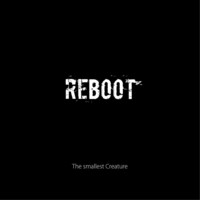 On "REBOOT" the smallest Creature creates a beautiful piece of chamber pop. By maintaining a delicate balance between the hushed whisper and the grandiose, the smallest Creature manages to perfect a glorious sort of intimacy. Imbued with a romantic sensibility the song merges elements of folk, post-rock, classical, even a hint of shoegaze into its expansive view. Patience is an absolute virtue of the sound as its strong, solid build-up is rather impressive. Lyrics stands front and center of the song as they describe an entire relationship, an entire life.
For the first few moments things are kept quiet. Only the guitars enter into the fray. Upon the strings coming into full view the song takes a sweeping sort of sound at heart. As the smallest Creature's voice drifts away it boomerangs to return to a fully-formed, all-encompassing sound. When the drums start the song starts its driving, full-throttle approach though only for a brief moment. On the second reiteration of the softer sound the smallest Creatures ties together a great variety of elements into the mix. Lyrics continue to guide the piece forward as the volume increases ever so elegantly. Towards the latter stages of the song the entire thing appears to gracefully soar into the skies. With a dreamy quality everything appears to interest so marvelously, revealing the smallest Creature's attention to detail as ever flourish is explored in full.
Catchy to its very core, the smallest Creature's "REBOOT" feels like a song of hope.
http://www.thesmallestcreature.com/
By Beach Sloth