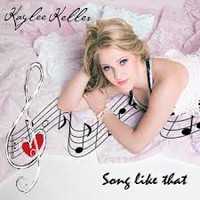 Kaylee Keller is singer /songwriter who just released her latest single, Song Like That." The single creates a solid sonic space for the listener to bask in. With Keller on vocals this radio friendly song delivers all of the above and will reveal all the a-typical conventions of today's modern pop-music that so many adore. However there is a cutting edge quality to Keller that really smashes through the mold. I get the impression she's not just another pretty pop face.
Keller ultimately credits God's grace and the constant support of her family in helping her reach the point she's at today. Her perseverance and positivity will no doubt enable her to soar to new heights through her music and reach those who need her message the most.
The single lifts off the ground smoothly and is in itself an impressive catchy kickoff few seconds to say the least. The song literally grabs your attention. It's remarkably easy to listen, and gravities you right away to Keller like a magnet "Song Like That' delivers a short but sweet anthem that slowly runs the gamut and has much to offer insofar as impressive music and captivating vocal hooks and clever lyrics. This makes the listener feel right at home laying on the sun without a care in the world. Musical comparables for me include Alanis Morissette, Jewel, Tori Amos, Shakira and Avril Lavigne to Brittany Spears. One cannot help but admire artists with strong songwriting skills and truthful conviction all the while demonstrating a strong a level of creativity in the process. Here Keller will win you over with her bold yet clever lyrics about the music industry and admirable charm. Did I mention her voice and visual appeal are to die for? One senses a growing ambition as this song advances. Keller's appealing voice hit the mark and with intellectually stimulating lyrics providing a very real and powerful source of inspiration and pop persona. The musicianship is rock steady and the overall production value tows the line putting Keller clearly in Dance Pop territory. The thing I like the most from Keller is the genuine appeal. No 'superficial, overly-tacky or over the top" vibes here. This will separate her from other up and coming female pop artists – because she is being herself.
Obviously many will fall head over heels with Keller. This is one artist that's set up rather well for mainstream success this summer. Some of this plays into strong marketability and potential world-wide. "Song Like That" presents a more modern sounding overtone but despite all this the flavor possess traditional Dance Pop textures with some Singer/Songwriter thrown in. This is really what makes Keller so enticing to me personally – I can't see or hear any notable weaknesses.
Kaylee Keller possesses an impressive and youthful look and sound. "Song Like That" grants one rare access to peer into the soul of an artist not so tormented but rather easy going and positive – from a carefree yet popish perspective shall we say.
Score: 8/10
SOUNDCLOUD LINK: https://soundcloud.com/kaylee-keller-music/song-like-that-1/s-3YRvC
Eric Jarvis