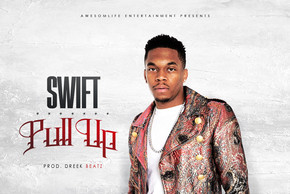 If you're unfamiliar with the North Carolina native, Swift, there is still time to get yourself acquainted before, as he proclaims "Imma Pull Up, step out and stunt."
Swift, who currently resides in Atlanta, Georgia, has taken full advantage of getting out of his former recording deal with Island Def Jam. He has spent the last two years in the studio developing a new sound under the tutelage of music vet & Epic Records resident-hitmaker Chubbie Baby. Swift returns with a record perfect for those summer party vibes.
Swift lends his sultry vocals to this infectious new single "Pull Up," This is sure to be a ladies favorite, and also delivers a 16 over the bouncy beat produced by Dreek Beatz.