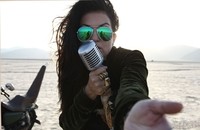 Angie Bruyere is another Indie artist that is showing the world no one can promote you better than yourself. She is a headstrong go getter that will not rest until she has made her mark on the world and she has done that with her latest single, Country Radio. Angie and the Deserters are ripping it up and showing the mainstream country folks how it's done.
Bruyere has a steady focus that comes together smooth and suave with a mysterious edge that pulls you in immediately. I hate to compare her to others like, Gretchen Wilson because the influence is there, however she is doing some ground breaking work and paving her own wave in this ever changing country genre.
Some people don't have to try to be cool, they simply are, and this video proves the coolness comes so natural for this seasoned musician. The song is fun with a calming vibe and attitude saying what you see is what you get, and what you get is polished sophistication with a purpose; the purpose is to entertain.
Angie and the Deserters do just that with the latest single, Country Radio. Being serious has it's time and place, she is serious about making strangers into fans and keeping the ones already on board and the rewards are vast. If you do not know this lady I highly recommend you jump on this bandwagon, you will be happy you did, I feel lucky to have had the opportunity to sing her praises.
5 out of 5
By: Rebecca Hosking – hoskingrebecca@gmail.com