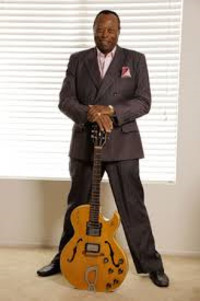 Half century navigating the treacherous byways and boulevards of the music world hasn't dampened Charles Wright's enthusiasm for performance and songwriting. Each of the dozen songs on his latest studio effort, Something to Make You Feel Good, is a fully realized anagram of his musical influences, often times equal parts R&B, funk, blues, soul, and even a few moments of exultant gospel. Wright touches in nearly every aspect of the American musical experience and his talent for reaching an audience cuts across racial and social lines. This is music designed to uplift, entertaining, and nudge the body into moving. There's a deceptively simple artistry behind all of this – much of Wright's music plays in an astonishingly direct fashion, but a closer listener reveals technique honed by years practicing his craft.
FACEBOOK: https://www.facebook.com/charlesandshaloawright
The album opens with "Answer to My Prayers", an artfully spun take on familiar themes in blues and R&B given new life by the top notch playing and Wright's warm presence at the center of it all. Each of the songs turns the spotlight squarely on him without ever losing any of the impact from the superb playing. The instrumental quality gives Wright an enviable springboard for everything he does. "Looking for an Ugly Woman" might offend the humorless, but Wright clearly relishes the playful wit powering this. It's a little less than obvious what's going on here, but any listener paying attention will soon glean the heart ache driving the narrator of his song. Herky jerky rhythms pull "I Got Feelings Too" along, but the rhythm section establishes this unusual, slightly funky groove from the outset and never loosens their hold on it.
"She Don't Believe In Love" is a scintillating single, a sharp and white hot funked up cut quite deserving of its status as a leadoff single. Wright lays down a cocky, yet tangibly disappointed vocal ruing his lady's standoffishness. The rhythm section, particularly the song's drumming, once again carries the day musically, but this is a fantastically good all around performance. Wright connects with another smashing home run on the horn driven "Happiness". The arrangement embodies the song's title spectacularly well – the horns come beaming from the speakers like incandescent rays of light. "Thank God for Tonight" brings Wright back into the soul world with a stirring vocal and lush arrangement that never overplays its hand and lapses into melodrama.
"Throwing in the Towel" is one of the album's most surprising moments, a stomping piano-driven blues with strong backing vocals and urgency pushing it hard from the first note. The eleventh and twelfth songs on the album, "Comfort Me" and "Peace of Mind", are outright gospel tracks full of artistry and testimony alike. There's little, if any, doubt listening to these songs that Wright's convictions match his recorded output as each of the songs are invested with quavering, full-on passion impossible to ignore. The same quality distinguishes Something to Make You Feel Good as a whole. This is a musical work brimming with passion and a commitment to artistic freedom. Charles Wright, unsurprisingly, has turned in one of the year's best releases.
SOUNDCLOUD: https://soundcloud.com/charleswrightmusic
9 out of 10 stars.
Joshua Stryde