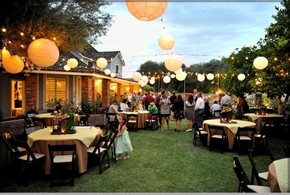 House parties are great. They bring people together and usually are much more affordable than outside, public venues. You though don't want your home trashed or anything broken either.
The best solution is outdoor entertaining. Whether it be a balcony dinner or after noon BBQ in the backyard you can't go wrong with entertaining outside. There is usually less cleanup and less potential for damage.
But to make your entertaining superb you need some great music to compliment the conversation. That means having outdoor speakers. Take a look at the great choices in outdoor speakers from Selby Acoustics.
Whether it be Top 40, classical, jazz or country by adding music to the mix truly makes it a party. In addition, with Bluetooth and a smartphone you don't need a boom box or portable player to get the vibe. You simply need some great portable, wireless speakers.
For those that are proud of the landscaping and architecture of your backyard and don't want visitors and guests seeing the speakers you can't go wrong with the Acoustics On-Ground Weatherproof Outdoor Rock Speaker. Not only will it blend in with the natural environment but features a 6.5" woofer and 1" tweeter for maximum sound capacity. Music from U2 and Elton John coming through these camouflage speakers will feel like they are at the party with you.
If you are confined by limited space, you may want to explore a pair of 5.25" Opus One Outdoor Speakers. These stylish, weatherproof speakers feature 45 watts of exceptional sound quality that can be mounted right to the wall. Perfect for all sorts of music including Imagine Dragons and Taylor Swift, these speakers aren't just affordable but sound great.
To take outdoor entertaining to the next level and get a real outdoor surround sound effect, you should for sure check out the Krix Stratospherix Poly Cone In Ceiling Outdoor Speaker. Featuring an 8" bass driver and weatherproof polypropylene cone this is a wonderful speaker to put near a swimming pool or courtyard. The sound quality is that good, that your guests may just get up and start dancing to the likes of Billy Joel and The Beach Boys.
With so many artists and so much great music out there, you for sure can create a great party atmosphere in your backyard with high quality music included.
Happy Partying!