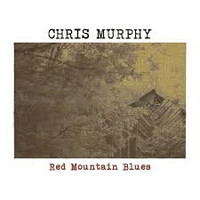 Craving the spotlight and blandishments of fame has never motivated Chris Murphy's long career as a live performer, songwriter, and recording artist. Murphy, instead, has consciously chosen to work his magic along the fringes of popular music, frequently paying respect to decidedly retro forms long fallen from commercial favor. The rewards are ample. There's a warm, unquestionable authenticity to Murphy's invocation of traditional Americana elements and it reaches far beyond mere imitation to do something much more – show a continued, viable path forward for traditional music in an increasingly untraditional world. His latest album, Red Mountain Blues, is another remarkably solid entry in a career studded with numerous jewels and he's surrounded himself, as ever, with keen-eared collaborators who help him realize his musical vision.
URL: http://chrismurphymusic.com/info/chris-murphy-the-devils-box/
Murphy opens Red Mountain Blues with the title track, a jaunty and violin driven song with irrepressible energy and melodic strengths. The instrumental gains added verve from the banjo lines dueling with Murphy's violin with neither instrument ever quite gaining the upper hand on the other. The production on the opener is indicative of the album as a whole – polished and balanced while still retaining an impressive live quality. Each of the songs on Red Mountain Blues sounds overdub free, like a band live on the floor and feeding from each other's energy. The second song, "Dirt Time", is the album's first track with lyrics, but the production has one of its rare missteps with how it positions Murphy's vocal in the mix. There's something beautifully emotive about Murphy's voice that deserves as little production as possible, instead aiming to present him in the starkest emotional light. This is a natural for live performance, however, and Murphy's singing is likely much more powerful in a live setting.
There are no such missteps on "Black Roller". The album's trend of uptempo bluegrass continues, but the added harmony vocals spin this in a much different direction than earlier efforts. "Kitchen Girl" enlists guest star Tim O'Brien to superb effect to make this mid-tempo character study one of the album's more memorable tracks. It will resonate with listeners for a number of reasons, but it exhibits a fidelity to detail that rings true with life. The elegiac turn of "Walt Whitman" comes at a welcome time in the album's progression and the beautiful exchanges between mandolin, piano, and violin make this another high point on Red Mountain Blues.
"Meet Me Tonight" has a different flavor thanks to its playful arrangement, sneaky slide guitar lines, and the wide-open joy heard in Murphy's vocal. Piano returns to the fore on "Johnson County" and there's a bluesy, gospel air pervading the song and driving its melancholy, but ultimately hopeful, mood. Red Mountain Blues' final song, "The Lord Will Provide", carries much of the same spirit, but it has a sharp uplift to it and even a semi-humorous, resigned air that brings the album to an appropriate emotional close. Chris Murphy further solidifies his status as one of the form's pre-eminent practitioners whose steadfast loyalty to archaic modes doesn't involve mindless parroting.
NAPSTER: http://us.napster.com/artist/chris-murphy
4/5 Stars.
Jason Hillenburg