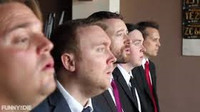 The latest single from the singing quintet Un5gettable is another helping of their typical understated humor and light country influences. While the band's concept is predicated on poking fun at the boy band craze of the late 1990's and early 21st century, "Sorry" is a traditional country ballad at heart, though one with a bare bones musical thrust and a reliance on vocals. The band shows a real penchant for melody that might surprise those who peg them as a novelty act, but their skill set is evident through all of the gentle hilarity. The situation behind the lyrics isn't particularly complicated or original, but its fertile ground for songwriter Joe Cameron's wit to pour old wine into new bottles.
URL: http://www.un5gettable.com/#home-1
The graceful musical sway contrasts nicely with the humorous lyrics and charming vocal performances. The lyrics are direct and don't overindulge the verbiage while the vocal arrangement, arguably the song's key musical element, alternates between rich multi-part harmonies and flawlessly executed solo lines. The piano playing and vocals follow similar trajectories and differ from one another only enough that they serve as an interesting quasi-counterpoint to each other. It's remarkable, in some ways, how musically pleasing "Sorry" ultimately is despite the relative dearth of accompaniment, but this feeling can be chalked up to their clear talents for writing memorable melodies.
Un5gettable's songwriting quality shines through. "Sorry" is a well-constructed track with passages melding seamlessly into one another and a pleasing inevitability that, while predictable, is reassuringly so. The band's vocal presence enhances this likeability with their charismatic phrasing and the varying textures of each vocalist bring unique qualities to the song. The track's accompanying video emphasizes this quality – the band expends a great deal of energy successfully attempting to embody the depicted situations. Their approach, however, never descends into slapstick or gets too heavy handed. Instead, it matches the musical stylishness with its own sleek, streamlined approach.
Un5gettable has been building a steady head of steam since their debut and this song will only add to their growing reputation. It's a remarkably solid musical work that reaches far beyond the typical material of parody songs, but its comedic elements are surprisingly intelligent while still sounding silly and tickling the funny bone. Un5gettable knows how to write songs, but moreover, their wealth of performing experience means they are quite capable of shifting flawlessly into the world of popular music.
Few bands like this exist anymore. When we hear musical comedy, it's often either drug related or sexually graphic, but Un5gettable's effort falls squarely outside both of those camps. As stated above, listeners will never mistake it for high brow humor, but there's a knowing use of the comedic form that goes beyond mere pandering and, instead, pulls this track closer to the realm of pure artistry. This is a solidly constructed song and one of the year's best singles.
William Elgin