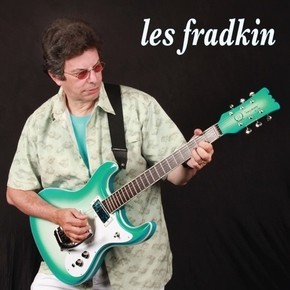 From Catching waves on his guitar to having his very own, signature guitar, Les Fradkin is doing it all and then some in 2016!  It's been quite a busy and exciting year thus far for the guitar maestro and you'll get the full scoop right here!  And for any guitar players out there or people wanting to learn more about the technical aspects of guitars this interview is for you my friends!  Check out this cool clip of Les shredding through the currents on his brand new Hallmark Guitars Les Fradkin Signature 60 Custom model: Les Fradkin – The Hallmark Guitars Les Fradkin Signature 60 Custom.  You can also Skope out Les' "Crashing Waves" track on the new Bongo Boy Records 'Gnarly Wave Volume One' Compilation album: https://bongoboyrecords.com/gnarly-wave-volume-one/.  And don't forget to pick up your copy of 'Surf Pearls' right here where it contains some of Les Fradkin's best Surf Music he's written over the last 20 years:  http://www.cdbaby.com/cd/lesfradkingetwet.
J Rae: First off I have to congratulate you on winning an award for Best Instrumental Recording for "Sabre Dance" at the 5th Annual Indie Music Channel Awards Ceremony and for having 14 nominations across 5 categories!  This event was held inside the Clive Davis Theatre at the legendary Grammy Museum in Los Angeles, California.  What was this whole experience like for you personally and how did it feel to win for your song "Sabre Dance"? 
Les Fradkin:Thanks for the kudos! The experience was unique. And a real honor to receive the Best Instrumental Award for "Sabre Dance"
J Rae:  Could you tell the Skope readers more about the actual Clive Davis Theatre as far as acoustics go, design, feel and overall presence?   Take us there Les!
Les Fradkin:It's a small theater seating about 200. The sound is quite good with an intimate presence.
J Rae: Did you run into any old friends at the IMC Awards and did you have a chance to mingle with the hundreds of guests in attendance?  Anyone in particular that sticks out to you?
Les Fradkin:We mingled with several Artists and, of course, Christopher Ewing, President of the Indie Music Channel.
J Rae: One last question about the IMC Awards Ceremony and that is did you and your guests attend any after-parties or receptions and if so how did that go?  Nothing too wild or out of the ordinary I presume? ☺
Les Fradkin: We attended the Saturday Night party at Station Hollywood. Very nice reception. It was very nice to see many of the Indie Channel Artists there.
J Rae:  So I see you just struck a deal with Bongo Boy Records where your single "Crashing Waves" will appear on the "Gnarly Wave Volume One" Compilation album so would you mind giving the Skope readers more details on this?
Les Fradkin:I've known "Unsteady Freddie" Salzburg, a Surf Music Concert Producer and Impresario  a long time. When I found out that he was involved with Bongo Boy, I contacted Monique Grimme and inquired whether she and Gar Francis might be interested in a tune for that compilation. To my delight, they were enthusiastic about "Crashing Waves". I wanted to break my Surf Music in Asia and Bongo Boy affords me that opportunity to do so.
J Rae: I know when we spoke recently you stated that the "Crashing Waves" video has been getting major play/views online.   What do you attest this success to and how can you give us an accurate number of just how many views the video is up to now?
Les Fradkin: It has over 2000 views as of this Interview. To what do I attribute its "success"?  It's a great melody and a very commercial arrangement, I think.
J Rae: When we spoke over the phone you had also said that in light of this deal with Bongo Boy Records that "Crashing Waves" was becoming much more visible in Asia along with picking up coverage with companies such as Dish Network & DirecTV just to name a few.  I know our Skope audience, along with myself, would love to hear more about these exciting ventures!
Les Fradkin:Bongo Boy has a TV division which will be broadcasting "Crashing Waves" across many Television networks starting in July across the US and Asia. Cross your fingers!
J Rae:  Speaking of Ventures, perfect segue into my next question.  You have deep roots in the Surf Rock realm and even played live with The 2008 Rock and Roll Hall of Fame Inductees The Ventures and recorded with Ventures' guitarist Nokie Edwards.  Doesn't get any more Surf Rock than that!  Would you mind telling us just how the relationship originally started with The Ventures and also what sparked the initial interest in Surf Rock music to where you wanted to catch some waves on guitar?
Les Fradkin:Well, I've played Surf music with Eddie Bertrand ("The Belairs", "Eddie & The Showmen") back in the late 90's during the Pulp Fiction Surf Music revival. We had a band called Get Wet which had a lot of hits at mp3.com. Get Wet was also featured in the book "mp3 For Dummies" as a successful group. More recently, I played Louie Fest in Tacoma, Washington in 2004. I was booked to perform two tribute sets, one for George Harrison and one for Buddy Holly. I brought my Wilson Bros. Ventures Model guitar and my drummer. James Fox (a Wilson Bros. principal) and some of his friends sat in as well. Turned out that Nokie Edwards of The Ventures was also there, and he and I jammed together on many Ventures tunes that day. Naturally, I knew all the parts so playing with Nokie was very enjoyable. Nokie was pretty impressed with the jam and recommended to The Ventures that they sign me up to endorse their guitars, which, they did. Subsequently, they invited me to perform live with The Ventures, and that opportunity presented itself at the Salmon Days Festival in Issaquah, Washington, later in 2004. I played 2nd lead guitar, got the opportunity to play with Alan White (of Yes) on "Wipe Out" and "Caravan" and generally had a great time. As it happens, "\Walk Don't Run '64" sparked my interest in Surf guitar so appearing with The Ventures was a unique life experience. Nokie and I have recorded together on a couple of tracks on my solo albums, notably, "Here Comes The Sun" and "Rock 'n Roll, Part 2" and we remain, great friends
J Rae:  It was just announced that you will be appearing at the 8th Annual Ventures International Fan Fest and this will take place on Oct. 01, 2016 in Crum Lynne, PA.  How did this come about for you and how pumped are you for this event?  Also, what songs can fans expect to hear from The Ventures and yourself and which members of The Ventures will be there? 
Les Fradkin:The host, Tom Baltaeff, and I, discussed the possibility of my making an appearance for 2016 and, after several calls, firmed things up. I know Bob Spalding will be there because I'll be playing with him at the Fest. I'm looking forward to playing at this Ventures Fest.
J Rae: Speaking of your set with Bob Spalding of The Ventures at the Fan Fest, I was hoping you could delve more into this for the Skope Universe?  Could you also provide information on where to buy tickets and where you can go to find out more about the actual venue where this event will be taking place?
Les Fradkin:I corresponded with Bob Spalding of The Ventures, and Bob decided that playing 5 songs together would be a blast. This should be a lot of fun. As of today, we plan to play "Walk Don't Run '64", "Slaughter On 10th Avenue" (both favorites of mine) and Bob has chosen the other three numbers. Probably, "Runnin' Wild" and "Underground Fire" as well as one more, "Bird Rockers". I know almost all their material, so whatever he chooses will be just fine with me. The event will take place on October 1, 2016 from 9AM to 9PM at The Knights Of Columbus, 1195 Haverford Rd. Crumm Lynne, PA 19022. The Facebook Event Page is:
https://www.facebook.com/events/1504492126519061/  – Contact Tom Baltaeff.
J Rae: Something else very exciting about you performing at The Ventures Fan Fest show is that you will get to debut your brand new guitar!  What's special about this guitar is that it is a Hallmark Custom 60 Les Fradkin Signature model with a perfect Surf Pearl finish.  I know you were working closely with Bob Shade of Hallmark guitars to create this one-of-a-kind instrument and have to ask first how did this idea & partnership come about and how does it feel to play your own guitar literally?
Les Fradkin:I've been playing guitar since 1964 and have owned over 150 different guitars. Recently, a couple of Hallmark guitar players wrote me on Facebook and suggested that I might love Hallmark instruments. How right they were! I had been looking for a Mosrite styled guitar with superior construction and various improvements. Bob Shade gave me an Artist endorsement and sent me a Surf Pearl 60 Custom with his regular single coil pickups. Although I loved that instrument, because I Compress my sound all the time, at
high gain levels, I had to find a way to quiet the noise from the guitar. After speaking to my guitar tech Mark Tenorio of TenorioWerx, Denver, Colorado, and receiving his suggestions, I approached Bob with some ideas of how this model could be made more personal for myself. How does it feel to play my own Signature model? Fantastic!
J Rae: Can you go into the workings of this guitar and how is it different from any other guitar out there?  Could you also describe why this Hallmark Custom 60 Les Fradkin Signature model is so special to you?
Les Fradkin:My Signature model is a Hallmark 60 Custom in a Surf Pearl finish (Aqua/Blue/Green Sparkle into a Pearl White Burst) with changes to the pickups and electronics. I requested that Bob Shade, President and Owner of Hallmark Guitars, wind me some hum bucking pickups for my guitar because single coil pickups of any brand, tend to generate too much noise with my Compressors. He came up with pickups that sound utterly fantastic. And the Ocean Pearl finish to the pickup covers is amazing. In order to preserve the Mosrite style tone, natural to this guitar, and overcome the natural dark tone of a hum bucking pickup, I elected to have 500K pots installed (instead of Bob Shade's standard 250K's). It gives a perfect sound for what I play, and gives Mosrite / Hallmark fans something without noise and hum which derives authentic Ventures style tone in a package which includes, IMHO, the best Vibrato on any electric guitar, anywhere! It returns to pitch with consistent accuracy and has a feather light touch. And the neck profile is perfect for my hands. It has a set neck, like a Les Paul (or the original Ventures Mosrite) and sustains for days. The body is Alder and bound and the fingerboard is bound Indian Rosewood.
J Rae: There are only 25 guitars available to purchase all in Surf Pearl, absolutely love the color by the way, but can you tell us where people can go to take a look at this eye-grabbing guitar and buy it?   And are you at liberty to say how many have been sold thus far?
Les Fradkin:Guitars and Audio Stuff are the exclusive distributors/dealers for my Signature guitar. You can see the guitar at:
https://reverb.com/item/2350250-hallmark-custom-60-les-fradkin-signature-model-2016-surf-pearl  and
http://shop.guitarsandaudio.com/Hallmark_Les_Fradkin_Custom_60_Signature_Model/p3877271_16059182.aspx
Sorry, I am not at liberty to reveal sales figures. However, they're selling fast!
J Rae: I know you endorse the Wilson Bros. Ventures Model guitars and also play Fender Jaguar guitars but have to know how these stack up to your latest Hallmark Custom 60 Les Fradkin Signature Model?
Les Fradkin:Well, as every guitar player knows, every guitar is different, even similar models. My Wilson Bros VM-65 guitars have wider necks than my Signature guitar with a reverse Mosrite body profile. Their Vibratos are a Strat style and work well. And my Jaguars have a shorter 24" scale. My Wilson Bros. VM10 guitars are experimental test beds (one of them has a Compressor/Booster system built in to the guitar, the other has a Roland GK Synth Pickup) which led up to ideas which appear in my Hallmark Signature Model. My Signature Model incorporates changes to specs that Bob Shade was willing to make to realize something special for me and manufacture in limited quantity. All great axes.
J Rae: I read that you had 16 #1 Surf Instrumental Hits at mp3.com and that you also had four of your Surf songs included on the soundtrack of the film "Accidental Icon-The Real Gidget Story".  So you've had quite a career in the Surf Music genre proving that some things never die!  You're continuing to carry on the tradition of timeless Surf Rock music by releasing a brand new album titled 'Surf Pearls' that's out now!  With three tracks from "Accidental Icon-The Real Gidget Story", several #1 Surf Hits from mp3.com and even a brand new song titled "12 Strings of Joy", this is set to be a Smash!  Can you tell the Skope fans more about this record, what it means to you and also what inspired you to write the new track for 'Surf Pearls'? 
Les Fradkin:This record contains the very best Surf music I've written over the last 20 years, and some very high level playing as well. Many sonic innovations for Surf music are found within, including my general Neo-Classical approach, which, while common in Shred Heavy Metal, was a first for Surf music, when I created that style in the 90's. The songs on "Surf Pearls" which appear in "Accidental Icon" are "A Day At The Beach" (the theme of the movie), "Kick Sand" and "Hurricane Warning". "A Day At The Beach" features a tapped Midi Guitar solo. "Body Surfin'" was #1 ten times at mp3, and Surfin' The Classics, Parts 1 & 2 as well as "Reverbia" made #1 there as well. "Classics, Part 2" is a medley of various Classical pieces, including a snatch of "Sabre Dance". "White Sands" features heavy use of Midi Guitar and has some exotic Middle Eastern scales and World music sounds including Sitar. "Wave Rider" features Reverse Delay Surf guitar. "12 Strings Of Joy" is based on Bach's "Joy Of Man's Desiring" and features a duet with myself on my Hallmark Signature guitar and my Fender Stratocaster XII 12 string guitar. Incidentally, the use of electric 12 string in Surf music is not, at all, common and the desire to feature this sound as well as my love of Bach's music, were inspirations for this track.
J Rae: Hard to believe that not that just last year we talked on the phone and you mentioned retirement considering that 2016 has been so productive for you thus far!  I, for one, am extremely happy for you and congratulate you on all of your success!  But…I know there is much more to come from Les Fradkin so what's next for you and anything new in the works you can share with the loyal Skope viewers?  Being that you've always been highly innovative with your overall sound on guitar and Ztar, what could you possibly do next to top it?  
Les Fradkin: Time will tell
http://www.lesfradkin.com
http://www.reverbnation.com/lesfradkin
https://www.facebook.com/lfradkin
http://www.youtube.com/user/lfradkin
http://twitter.com/lesfradkin
By Jimmy Rae (jrae2@att.net)